'An environmental disaster': An overview of the East Palestine derailment
On Feb. 3, a hazardous materials freight train derailed in East Palestine, Ohio. About 50 rail cars were impacted, including eleven that held toxic materials. The State of Ohio is now suing Norfolk Southern, the railroad company responsible for the spill.
Residents and workers have blamed the accident and resulting chemical spill for increases in illnesses and higher mortality rates among the local wildlife. 
Chemicals onboard the freight train included vinyl chloride, ethyl acrylate and isobutylene. Each chemical has the potential to cause cancer. 
The locomotives were owned and operated by Norfolk Southern Railroad. On Feb. 4, responders detected leaked materials in two nearby streams nearby. Each of these rivers connects to the Ohio River Valley, a drinking water source for over five million people. 
The train car containing vinyl chloride was an explosion risk, which could spew shrapnel over a one-mile radius. Ohio Gov. Mike DeWine stated he was presented with "two bad options" on how to handle the potential explosion after meeting with the Environmental Protection Agency (EPA) and authorities from Ohio and Pennsylvania. They could either allow the explosion or vent and burn the chemical.  
Concerns were expressed that burning the chemical could lead to the release of phosgene, a chemical used in World War I. Also, burning vinyl chloride could lead to the development of dioxins, "a group of persistent environmental pollutants that can remain in the ground and body for years and have been one of the major environmental problems and controversies in the United States." Dioxins could have "long-term health effects" on East Palestine residents. 
DeWine and officials ultimately decided to vent and burn vinyl chloride, and the controlled release took place on Feb. 6. DeWine and Penn. Gov. Josh Shapiro ordered an immediate evacuation around the area. 
DeWine was notably aggressive and urgent in his evacuation call. 
"Everyone in Pennsylvania and Ohio who's in this area, you know, you need to leave. You just need to leave. This is a matter of life and death," he said.
The evacuation order was lifted on Feb. 8, when officials let residents return home.  
Public outrage erupted since the derailment took place. Most anger comes from East Palestine residents over officials' perceived lack of honesty on the threat the derailment poses to their health.
News outlets from East Palestine reflect a hazy, black sky stemming from the vinyl chloride burn. The Ohio Department of Natural Resources estimated around 43,785 aquatic animals have died since the derailment. The situation is being touted as an "environmental disaster."  
DeWine's office constructed a health assessment survey to obtain a picture of the potential health effects of the chemical release. Out of 170 residents, 74% reported experiencing headaches, 64% reported experiencing anxiety, 61% said coughing, 58% reported experiencing fatigue and 52% reported experiencing irritation, pain and burning skin. 
On Feb. 15, East Palestine Mayor Trent Conaway hosted a town hall for residents to ask questions and vent their frustrations over how the situation has been handled. Representatives from Norfolk Southern were supposed to be present at the town hall, but they pulled out before the meeting began. 
"Norfolk Southern didn't show up. They didn't feel it was safe," Conaway said. 
U.S. House Rep. Bill Johnson (R-OH), a congressman from Ohio's sixth district, also attended the town hall. After an attendee asked about the many people experiencing symptoms, Johnson told them to talk to their doctor and "let science tell [them]" what the cause is. 
Residents unloaded their frustrations on Conaway, Johnson and other officials present at the meeting. 
Heather Giralico and her husband discussed how the derailment had compounded their economic troubles. After having to stay in a hotel for multiple nights and having their workplaces shut down, they're waiting to be reimbursed by Norfolk Southern to begin cleaning their home.
"We have to clean our whole house and wash all of our clothes so we just need some supplies. … We just need to get by until we get our reimbursements and get paid again," Giralico said.
Attention has also been turned to the railroad company's mishandling of the situation. 
Norfolk Southern is currently amid six different lawsuits. In particular, the national law firm Morgan and Morgan filed a lawsuit alleging the railroad company released 1.1 million pounds of vinyl chloride into the environment. 
They are also engaged in a lawsuit with two Pennsylvanian residents. Their case is pushing for Norfolk Southern to pay for medical screenings and related care for citizens within a 30-mile radius to determine the health effects of the toxic chemicals. 
In addition to the lawsuits, their railroad operations are coming into question. Leaked audio from 2016 between an alleged former Union Pacific railroad worker named Stephanie Griffin and her manager revealed the company's careless attitude towards tagging, the practice of reporting damages. 
A preliminary report from the National Transportation Safety Board cited a wheel-bearing failure as the cause of the derailment.  
Her manager stated it was "okay to skip inspections," and she's "definitely not going to get in trouble for it." 
According to Griffin, the reason for relaxed attention toward tagging is that management is looking to cut down on "dwell time," or the amount of time "a train spends at a scheduled stop without moving." 
"It's very obvious that management is not concerned with public safety and only concerned with making their numbers look good," Griffin said. 
For the people of East Palestine, the potentially detrimental effects of toxic chemicals on their homes and health will unravel as the years pass. 
Until then, residents continue to speak out in hopes of receiving meaningful action and information on their safety from the government and Norfolk Southern.  
Leave a Comment
Donate to The Lion's Roar
Your donation will support The Lion's Roar student journalists at Southeastern Louisiana University.
In addition, your contribution will allow us to cover our annual website hosting costs.
No gift is too small.
About the Contributor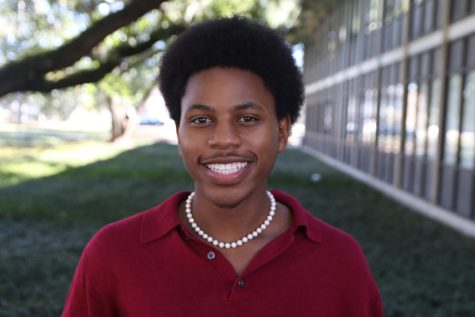 Kennith Woods, Staff Reporter
Kennith Woods is a Political Science and Communications double major with a concentration in Television and Multimedia Journalism. He's been a staff...