Showing pride during June
Pride Month is dedicated to celebrating and affirming those who identify with the LGBTQIA+ community and LGBTQ+ culture and rights.
Activists worldwide have continued the fight of pride and many have been inspired to speak out against ongoing injustices, such as the legislation some states are enacting legislation against trans people.
The initial concept of pride started in the aftermath of the Stonewall riots, a series of pro-gay protests that began on June 28, 1969, in Greenwich Village, New York, that stretched over six days. The protests came about as a result of numerous police raids that took place prior. Marsha P. Johnson, Sylvia Rivera and Stormé DeLarverie were notable activists involved in the protests. 
Many students, especially those a part of and allies of the community, still find that Pride Month contains importance in terms of being celebrated. 
Senior general studies major Julia Lane said, "I think it is important to continue the celebration of pride because, despite the progression made, many Americans are still close-minded on the matter. While Americans have come a long way with the acceptance of LGBTQ+ individuals, the fact that I still feel hesitant to share my sexuality with others means that there is still a long way to go." 
Progress at the university has been made with the establishment of Lavender Lions, an LGBTQIA+ organization at Southeastern that provides for and uplifts the community on campus. The organization hosts many on-campus events, one of which is the Trans Day of Remembrance ceremony. 
Senior evolutionary biology major and Vice President of Lavender Lions Matt Matthews shared what Pride Month means for him. 
"Pride Month means a lot of things to me. As an individual, it is a time to reflect and celebrate the joy of community. As an activist, it's time to educate. Pride started as a riot, and it's important to reflect on the history and not just get swept up in the celebration," Matthews said.
The history regarding the treatment of LGBTQIA+ individuals in America has not always been so rosy. 
During the 1950s and 60s, Executive Order 10450 was still in place, which barred homosexuals or anyone accused of homosexuality from federal employment. 
The first pride parades were held in numerous cities in the U.S. in the 1970s. As a result, more and more pro-LGBTQ+ groups were formed to stand together against discrimination. 
Homosexuality was considered a mental illness by the medical community and was only removed from the ICD-10 (International Classification of Diseases Version 10) in 1977.
In 1999, President Bill Clinton recognized Pride Month with Proclamation 7203. 
"Thirty years ago this month, at the Stonewall Inn in New York City, a courageous group of citizens resisted harassment and mistreatment, setting in motion a chain of events that would become known as the Stonewall Uprising and the birth of the modern gay and lesbian civil rights movement," Clinton proclaimed.
The Supreme Court ruled a Texas law criminalizing homosexuals engaging in consensual sexual activity violated the Constitution in the case Lawrence v. Texas in 2003.
Later on in 2011, President Barack Obama expanded the progress by officially declaring the month of June as Pride Month. 
At the end of his proclamation, Obama said, "Every generation of Americans has brought our Nation closer to fulfilling its promise of equality. While progress has taken time, our achievements in advancing the rights of LGBT Americans remind us that history is on our side, and that the American people will never stop striving toward liberty and justice for all."
In addition to commemorating those who participated in the Stonewall riots, Pride Month is also dedicated to recognizing prominent figures in the LGBTQ+ community. Matthews considers supporting and honoring the members of the community on campus to be supporting the future. 
"A prominent figure here on campus that inspires me is the current president of Lavender Lions, Rosemary Matthews, my twin sibling. They have dedicated themselves to building community here on campus, and those efforts are seen everywhere," Matthews said.
More information on Lavender Lions can be found on their Instagram.
The ongoing movement for LGBTQ+ rights encourages many to remain optimistic and take pride in their respective identities. The current climate in regard to transgender legislation in some states, along with anti-trans rhetoric, shows the ongoing need for Pride Month due to the fact that many people are still unaware of LGBTQ+ issues and why they are still relevant.
Leave a Comment
Donate to The Lion's Roar
Your donation will support The Lion's Roar student journalists at Southeastern Louisiana University.
In addition, your contribution will allow us to cover our annual website hosting costs.
No gift is too small.
About the Writer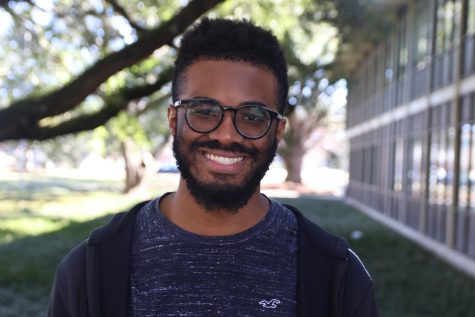 Ian Stewart, Opinions Editor
Ian Stewart is a Creative Writing major and serves as the Opinions Editor. He has worked on the newspaper staff since the Fall of 2021. Ian is a native...