Many students can't imagine their day without caffeine. It becomes their fuel, providing the will to live. 
While some students can manage their caffeine consumption, others go full-speed, drinking a large amount of caffeine-based drinks. However, beverages like coffee, tea, energy drinks and soda can cause addiction. While moderate caffeine consumption is generally considered healthy, caffeine dependence can harm health and disrupt life. Since it stimulates the central nervous system, caffeine addicts may experience withdrawal symptoms and cravings. 
Due to the extensive availability and consumption of caffeinated beverages, student caffeine addiction is a growing concern. Southeastern has several locations where students can buy coffee, such as Starbucks, Java City and the Mane Dish. Off campus, there are options galore for students who need a boost of energy with a drink.
Freshman James Hinton, majoring in psychology, is a barista at the on-campus Starbucks. He said many students and faculty get coffee daily from Starbucks, primarily around 9 a.m. Even though people can get decaffeinated drinks, coffee is a top choice for college students. 
"Students and faculty get mostly caffeinated beverages since we offer more coffee-based drinks," Hinton commented. 
Students become addicted to caffeine to stay awake, focus or cope with stress. This can lead to withdrawal syndrome, sleep disorders, increased tolerance and potential negative health consequences such as increased heart rate, digestive problems, anxiety, nervousness, intervention, etc. It is important for students to know about caffeine consumption and to observe moderation to lead a healthy lifestyle.
Many students underrate the negative effects of coffee, blaming everything on stress and school. Caffeine side effects can be serious, especially if multiple side effects are present at the same time such as an increased heart rate and chest pain as well as trouble sleeping.
Matthew Foster, a wellness coordinator at the University Health Center, confirmed the information about the negative effects of caffeine and emphasized sleeping troubles being a serious health problem due to excessive caffeine intake. 
"College students already do not get enough sleep. Caffeine can compound this issue and make this health issue worse," Foster explained.
With any minor or major symptoms, Southeastern students can visit the health center where they will be assisted with the help of a professional. 
Foster shared a tip on how to get rid of a caffeine addiction. The main piece of advice was to reduce intake gradually.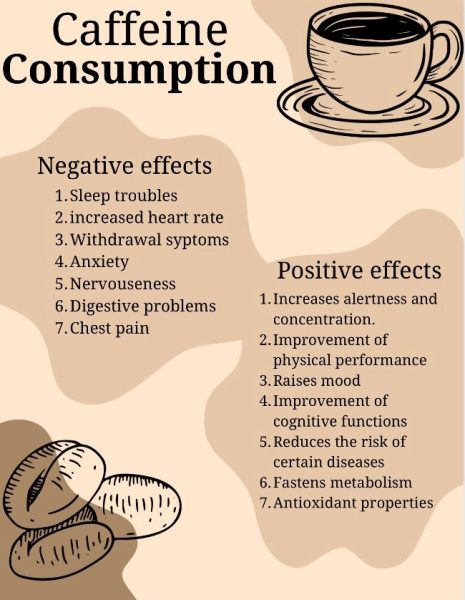 "Stopping abruptly can cause withdrawal symptoms such as headaches, anxiety and nervousness. Caffeine withdrawal is not considered dangerous, but it can be unpleasant so it is best to slowly reduce consumption," Foster stated. 
Many students say that coffee helps them manage their tight school schedule and be productive throughout the day. 
Bryce Wadenpfuhl, a junior majoring in sports management, drinks coffee every day. He said he loves it for its taste and it keeps him up for a long time. 
"Caffeine beverages usually help me to study. They keep me focused while I'm doing my assignments," Wadenpfuhl said. 
Caffeine stimulates the central nervous system, helping to improve alertness, mindfulness and concentration; it can also improve physical performance by increasing endurance, reducing fatigue and improving muscle strength and power.
Many people relate caffeine to raising their mood as it stimulates the release of certain neurotransmitters such as dopamine and serotonin. Coffee has also been proven to improve cognitive functions such as memory, reaction time and mental processing speed. Moderate caffeine consumption is associated with a lower risk of developing certain diseases, including Parkinson's disease, stroke, Type 2 diabetes and certain cancers.
It is important to note that individual reactions to caffeine may vary and excessive consumption or sensitivity can lead to negative consequences such as insomnia, anxiety or problems with the gastrointestinal tract. Moderation is the key when consuming caffeine.