Welcoming fresh faces to the university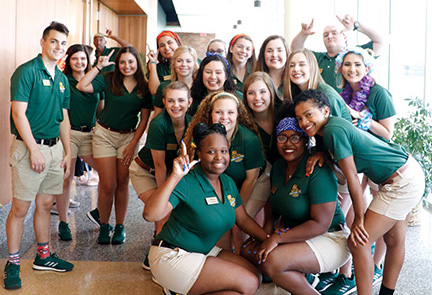 Throughout the summer, the university welcomed incoming freshmen and helped them prepare to start college.
Orientation leaders worked to foster some lion pride and guide the students leading up to their introduction to college. Sophomore elementary education major Dejuan James, an orientation leader, offered advice to the freshmen.
"You're just getting out of high school, and you're starting to learn things on your own," said James. "You're not gonna have your parents with you 24/7 like it was before, but the thing about college as you start to pick things up by yourself, is that's when you start to learn more about yourself, where you learn how to take responsibility and learn what the real world is like."
The first week of summer orientation began on June 6, and the last week will be July 11, followed by a final fall orientation on Aug. 9. At the orientations, students can tour campus, pick up their student ID, and learn more about the university through breakout sessions on topics including campus safety, financial aid, housing and dining.
"The kids are loving it," said senior marketing and management major Sh-Kaia Mosely, an orientation leader. "The parents are loving it. They have a lot of questions, and they're very excited to start in the fall."
According to James, becoming involved on campus helped him adjust to the college setting.
"The way I got through it was doing something like becoming an orientation leader as well as doing theatre because it's stuff that I enjoy," said James. "It was definitely tough adapting to the environment, such a large school with so many different types of people who do many different things, but finding what I love to do definitely made that easier."
For junior criminal justice major Michael Robinson, an orientation leader, the most challenging part of starting college was being on his own. 
"When I came here, I was kind of alone, and I didn't want anybody else to feel like that," said Robinson. "So, I became an orientation leader to help people out and try to get in the sense of they have friends anywhere and everywhere."
James encourages incoming freshmen to approach college as more than studying.
"College is meant to be an experience," said James. "It is meant for you to learn new things, experience different things, meet new people, and just be able to have fun. College exposes you to so many different things that you may not know are for you, and that was something I definitely didn't know very early on."
Several factors such as proximity to home and tuition contribute to students' decisions to attend the university. Freshman nursing major Cole Young shared his reason for choosing the university. 
"My cousin went here, and he said he loved it," said Young. "I know a bunch of my friends that are here already, and they say how much they enjoy it. So, I gave it a try, and I'm here now."
Mosely discussed the attributes that make the university an appealing higher education choice to her.
"We are family-based," said Mosely. "Our classrooms are really small. It's like a 24-to-1 ratio. It's hands on, and if you're a visual learner like me, you can get the attention you need other than like, 'Oh well, this is what you have to do. This is the lecture,' and you go about your day."
Sophomore elementary education major Buffy Baker, an orientation leader, explained why she feels students should choose to attend the university.
"We have the number one cafeteria in the state," said Baker. "We have the top nursing program for valued nationally, the top education program for valued nationally. It's just a really good school, and you don't have to go a million dollars in debt to come here."
Freshman computer science major Ason Mol plans to become a programmer. He shared his experience attending the orientation.
"It's great," said Mol. "They really explain everything to us, and it's getting kind of interactive.