Do laptops hinder or help students?
A keyboard and a screen allow students to either keep up with the lecture or become distracted by the technology.
In addition to the students' choice of note taking, instructors have seen the effects of computers in the classroom, both for their use during instruction and the students' usage.
Carly Woodard, a senior nursing major, has used a laptop to take notes in all of her classes.
Although Woodard enjoys taking notes on her computer, she explained that instructors who do not allow laptops send a mixed message.
"In some of the classes, we've been asked not to use a laptop, and yet, we're asked to stay up-to-date on the newest medical technologies," shared Woodard. "So, I think that you're asking six of one, half a dozen of the other and calling them different things. I think that's frustrating for sure."
In the upper-level nursing classes, Woodard discussed that the fast-paced nature of the lectures makes laptop usage beneficial.
"They may say a term that we have never heard in our lives that is vital to what we are learning," said Woodard. "Boom, slide the page over, Google, got it, back – now I'm in. I know what you're talking about. We can move on. I didn't slow the class down."
Maci Luquette, instructor of biological sciences, shared that around 70-90% of her students use laptops for her lectures.
Along with the students benefiting through editing their notes more easily than with pen and paper, Luquette noted that the computer has helped her explain concepts more effectively.
"There's a picture that I can find online, or a video of mitosis for example that they can see the cell through the different stages," discussed Luquette. "That's a lot better than me just trying to draw a picture on the board."
Gerard Blanchard, professor of physics and undergraduate coordinator, shared that for his laboratory classes, students who used computers were relieved of extra work once they gathered their data.
"You can put it right into a spreadsheet, which means that you can do the calculations right there, and then you can do the repeated calculations very easily," said Blanchard.
Lori Ostarly-Ulfers, instructor of history, explained that she does not mind students using a laptop, but she does caution students that it could serve as a distraction.
"I think laptops are OK," shared Ostarly-Ulfers. "It's just that they can be students' worst enemy. It's kind of like with the phone. They have their phone there, and if it's constantly buzzing, and they've become that technologically dependent, they're not going to sit there and listen to the history lecture."
Blanchard discussed how laptops could distract the user and other students.
"When I would observe classes, I would sit in the back row, and it didn't matter whether the laptop was a row in front of me or two rows in front of me," said Blanchard. "If there's someone watching stuff, and there's lots of motion on the screen, it was very distracting for everyone behind that person."
Kelsey Mayes, a sophomore art major, handwrites notes for all her classes.
Mayes tried taking notes with a laptop her freshman year because it was a new option.
"I saw a direct effect on my grades because of it," recalled Mayes. "I couldn't remember anything, so I just switched back."
Ostarly-Ulfers advised students of all programs to silence their notifications if they use their laptops, not only for those around them but also for the student's benefit.
"If they're going to use a laptop, disable all those things because, especially teaching history, if you miss one part of a lecture, then you're lost in the rest of the lecture," said Ostarly-Ulfers.
About the Contributor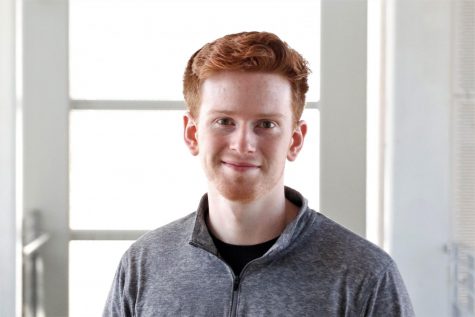 Jacob Summerville, Editor-in-Chief
Jacob Summerville, a history and political science major, has worked at The Lion's Roar since September 2017. A native of Greenwell Springs, LA, Jacob...