Mane Dish adds option for those with allergies
A new dining station was added to the Mane Dish to accommodate people with dietary restrictions.
The True Balance station provides not only healthy meal options, but it also takes into account some common allergenic foods: milk, eggs, soy, wheat, peanuts, tree nuts and crustacean shellfish.
According to the Food and Drug Administration, these foods account for 90% of all food-based allergic reactions. Nearly 26 million adults in the United States have food allergies, and the number continues to grow. The True Balance station avoids these allergens to provide safely-sourced meals for those who suffer from food allergies.
Robin Parker, director of marketing and strategic initiatives for Auxiliary Services, explained why the station was added to the Mane Dish.
"The station was added because we felt there was a need for it," said Parker. "We had been accommodating students with dietary restrictions on a case-by-case basis, but we felt like the demand dictated we expand our offerings."
Parker explained the process for dealing with a food station that has ingredient-based restrictions.
"Opening a station like this requires a lot of planning and reworking of kitchen operations," elaborated Parker. "We converted the old deli area and deli cooler to be the True Balance area and True Balance/produce cooler. Part of that conversion requires deep cleaning and decontamination of all areas of the station. Only employees that have completed the True Balance training and are certified to go into this area are allowed past a certain point."
According to Food Allergy Research & Education, for someone with a food allergy, even eating something that has come in contact with an allergen can put them at risk of an allergic reaction.
Parker commented on the expectations set for the new station.
"Our expectations for this area are that we provide a safe haven for people that are normally restricted in their diet and that have to go to great lengths to make sure what they're eating is safe," said Parker. "We take that work out of their hands by limiting potential cross contact and offering complete transparency in menu items. The food from True Balance is alive with flavor and nutrition all while providing these assurances, and as a result, the station has been very well received."
The True Balance station is open for lunch and dinner Monday through Friday in the Mane Dish. For more information or to inquire about food options for other dietary restrictions, contact Dining Services at [email protected]
Leave a Comment
Donate to The Lion's Roar
Your donation will support the student journalists of The Lion's Roar at Southeastern Louisiana University. Your contribution will allow us to cover our annual website hosting costs. No contribution is too small.
About the Contributor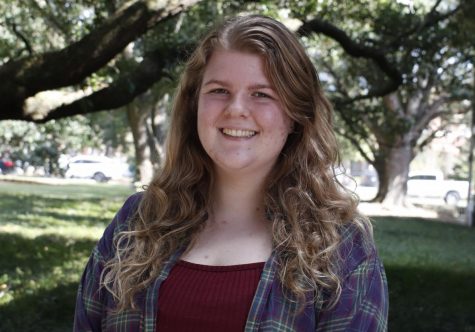 Maggie Tregre, Co-Editor, Le Souvenir Yearbook
Maggie Tregre is an English education major from Baton Rouge, LA. She worked as a staff reporter and editor-in-training for The Lion's Roar from September...