Leaders inspire students with different approaches
While some students direct their full attention on studies and attending class, some students juggle balancing academics and extra involvement on campus through organizations.
Presidents of student organizations work with their members and lead by example.
Danielle Magruder, a senior middle school education major, serves as the president for Catholic Students Association. The organization has over 100 active members.
Magruder's responsibilities for the organization include running meetings and working with the  leadership teams. Magruder likes to lead the team by working with the team members.
"I am not higher than any officers," said Magruder. "I am just there to lead them and help them. My leadership style is that I'm not very much of a 'I tell you what to do' but more of a 'You do what you want to do, and I'll tell you if I see something wrong.' I try to keep it as ran by them as possible. I don't like being the dictator. That is not my style."
It is important for Magruder to manage time while not being bossy in her leadership position.
"Time management is key to being a president for something," said Magruder. "How I work well with other members, I try not just to be the boss. I want to be seen as their equal. So, I let them plan something, and I am just there for if they have questions if they need any help with something. I let them lead."
Taylor Gautreaux, a sophomore social studies education major, is the president of Lions for Life, a non-religious and non-political organization that supports pro-life subjects.
"Our main goal as an organization is to assist any pregnant students that may need help," shared Gautreaux. "So, basically, letting them know what their rights are as pregnant students. They will have to be absent for doctor's appointment. They can have accommodations and things like that."
Gautreaux likes getting feedback from other members and also takes ideas for events to be organized.
"Most of the things we do don't really come from my own," said Gautreaux. "It's what everybody in the club wants to do."
Gautreaux pointed out some qualities that are important for a leader to have.
"Communication with everyone that you are working with as well as delegation, not taking everything up on yourself," said Gautreaux. "Asking for help when you need help. Asking people to maybe send an email out and put on Facebook. Realizing that you don't have to do everything to be a leader. You can ask for help as well."
Victoria Rocquin, a junior communication major, is the president of the Honors Club. She likes meeting new people and facilitating leadership teams.
"I am a visionary and an ideas person, and the thing I love about being president of Honors in particular is that it's just a really cool way to meet a lot of people with a lot of passion and a lot of ideas, and the club changes every year," expressed Rocquin. "It's a whole different group every year than it was last year. We have new members that are constantly coming in. So, I really look at it as it's my job to really just facilitate what their ideas and their visions are."
Rocquin feels that making sure all members of the group feel included is an important aspect of leadership.
"I try to be very intentional about making sure people are included, and I never want it to seem like it's just the officers that are running everything, and the officers making decisions because that's not what a club is about," said Rocquin. "It's supposed to be everyone who is there to be actively involved and learning and growing."
Magruder advised other students to establish themselves by being involved and having confidence in themselves.
"The most important thing, I would say, is to get involved and get involved as soon as you can," said Magruder. "Establish yourself. I would have never been the president of my organization if I wouldn't have first joined the sorority. I tried out from little leadership positions here and there, and I finally had enough confidence in myself, and now I am the president of an organization."
Rocquin suggested students willing to get involved on campus to ask for ways they can help.
"I would just tell them to go to everything that they can and offer helping hands," advised Rocquin. "If they can get there early and help set up or stay late and help clean up or just be willing to help because a lot of being a leader is being willing to help behind the scenes, and we always look at leaders as people who are up on stage but that's just a small part of it. A lot of things goes behind the scenes that we don't see. So, I would suggest people to be involved and ask 'How can I help?'"
Leave a Comment
Donate to The Lion's Roar
Your donation will support The Lion's Roar student journalists at Southeastern Louisiana University.
In addition, your contribution will allow us to cover our annual website hosting costs.
No gift is too small.
About the Contributor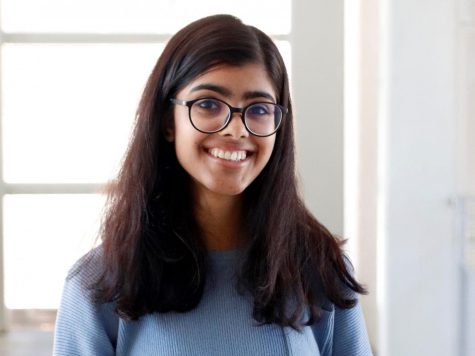 Prakriti Adhikari, Editor-in-Chief
Prakriti Adhikari is an accounting major and an international student from Kathmandu, Nepal. Adhikari has been working with The Lion's Roar since Fall...