ROTC to add the only military obstacle course in Louisiana
The university's Reserve Officers' Training Corps will be providing additional training classes for those enrolled in the ROTC program.
A military obstacle course will be added to help the army train physically and is set to be built by the National Guard Engineer Corps unit next summer at the North Oak Park.
Joseph Shorter, senior military science instructor for the ROTC program, informed that among the many obstacles that can go in the course, eight obstacles will be included in the program at the university.
Even though the obstacle classes are subject to changes, the eight obstacles planned to be included are: Tough One, Confidence Climb (Jacob's Ladder) or Reverse Climb, Belly Crawl or Low Wire, Inclining Wall, High Step Over, Swing, Stop and Jump, Six Vaults and Weaver.
"The obstacle itself is interesting because it's something that the alumni program and cadet commands, which is the large ROTC group, and the Louisiana Army National Guard are working in tandem with each other to get built, but it is not something that the ROTC program is directly involved in," said Shorter.
The obstacle courses will challenge its students to be more physically fit. An example is the Jacob's Ladder, where the difference in steps of the ladder is more than five feet.
"In a Jacob's ladder, the rung, if you will, is about the difference between the average person's shoulder height," explained Shorter. "You're roughly looking at 5'4" between rungs. So, it simulates a person trying to climb over a wall or having to climb up a tree and simulate those differences."
All students enrolled in the ROTC program will be required to take the classes as a physical training course.
"It's a really good physical exercise," said Shorter. "Gets your blood flowing. It's a skill set very important for us. While it's true that these cadets aren't training to go be the in-country soldier who is that young guy who is in the squad, attacking a building or attacking an enemy squad. As an officer, which is what they are training for, even though our job is coordinating and planning and directing, at the same time you have to be able to have the same sets that your soldiers have because there always comes a time where at some point or another, unfortunately where we are the ones carrying that role because something devastating has happened."
The obstacle course on campus will train cadets for advanced camps during the summer.
"After their junior year, cadets go to what's called the cadets advanced camp where you get assessed," informed Shorter. "When they are at advanced camps, one of the things, they call it 'getting it going', as in you get a go or no-go. One of the courses they have to pass is the obstacle course. So, the reason is they want to make sure our bodies are physically capable of doing the same roles as our soldiers. So, they send us to the obstacle course."
After the course is introduced on campus, the university will be the only campus in Louisiana to have an obstacle course.
"It's a huge thing for campus because Southeastern will be able to host ROTC course, which is where the cadets from different programs come in and compete against each other," said Shorter. "They'll be able to host field training exercises where cadets from multiple schools send their ranger challenge teams to come and test their skills against each other. So, it will be a good thing. It will put Southeastern at the forefront of the ROTC program in the state which by default will make Southeastern a better choice to come to if they are interested in ROTC."
The addition of the obstacle course will give a competitive advantage for the ROTC program on campus.
"We're trying to make sure that everyone understands that not only is Southeastern a great school to come to and a great school to be at, but also if you want to do ROTC and especially if you want to do an ROTC program that gets you prepared to go to the Louisiana National Guard or the reserves, this is the school to be at," said Shorter.
Leave a Comment
Donate to The Lion's Roar
Your donation will support The Lion's Roar student journalists at Southeastern Louisiana University.
In addition, your contribution will allow us to cover our annual website hosting costs.
No gift is too small.
About the Contributor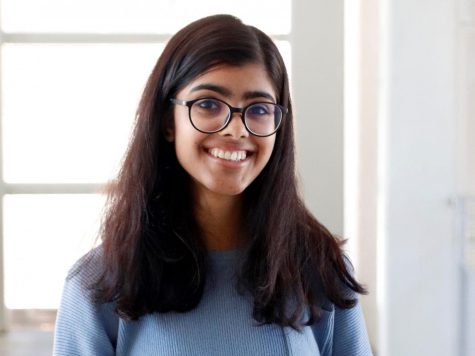 Prakriti Adhikari, Editor-in-Chief
Prakriti Adhikari is an accounting major and an international student from Kathmandu, Nepal. Adhikari has been working with The Lion's Roar since Fall...