How student-athletes maintain momentum during pandemic
The enforcement of social distancing has put a halt to all university athletics, leaving student-athletes with no choice but to adjust their lifestyles.
With the progression of the coronavirus outbreak, workout facilities on and off campus are closed until further notice. These limited resources have pushed student-athletes to find ways to stay fit and motivated within the parameters of their homes.
James Benson, sophomore track runner, explained how the closure of gyms has impacted his workouts and how he has adapted his routine.
"With the season being over, I was going to lift weights a lot, trying to get stronger that way, but that definitely messed up my plans," mentioned Benson. "I was working out earlier. I was doing agility stuff, going up and down the streets, doing accelerations and jump ropes."
Sophie Daigle, junior cross country and distance runner, shared that she has incorporated home exercises.
"I'm still running a lot, but mainly on campus and not on the track because the track is closed down," said Daigle. "I've added in some body exercises after my workouts because the gyms are closed, and I've done a lot more stretches and home exercises."
Without having the structure of team practices, some athletes have found it difficult to stay motivated.
Daigle described what she misses from team practices and shared how she finds motivation to stay consistent.
"It's a little less motivation pushing through a workout because I don't have my coach or my teammates there with me," commented Daigle. "Knowing that if I start to be unfit, I won't be back where I was, that's what motivates me to stay fit."
For Benson, staying motivated has been less of a hurdle.
"I have goals and stuff I want to do, so I use this to fine-tune the little stuff," explained Benson. "The little things that I feel like I'm weaker at, I'm just using this to get stronger at the little things."
Shelby Sitzman, a junior softball player, has found motivation during the quarantine period by involving her family in workouts.
"I can see that it's somewhat difficult to keep myself motivated because I'm not in that same routine of my regular workouts at the gym," shared Sitzman. "But, it's also easier to stay motivated in that I enjoy helping my family get in shape as I'm working out. Knowing that I'm helping them motivates me as well."
Sitzman compared the feeling of working out at home to working out alongside her teammates.
"There are pros and cons to both," said Sitzman. "I enjoy that I can have time to break down my technique and really work on myself, but I do really enjoy the team practices and having my teammates to motivate me and having my coaches there to instruct me."
Sitzman shared how she utilizes home equipment to stay consistent in her workouts at home.
"I'm in the off-season, so I don't have to worry about maxing out," explained Sitzman. "I just try to upkeep my body and my condition. I've gone through a lot of fit training, high-intensity interval training. I've done a lot of workouts with resistance bands and a lot of weight lift workouts as well."
With the indefinite closure of workout facilities, Sitzman emphasized the importance of staying fit.
"It definitely hasn't made things easier, but I definitely encourage people to keep in shape because that'll help in the future," said Sitzman.
Leave a Comment
Donate to The Lion's Roar
Your donation will support The Lion's Roar student journalists at Southeastern Louisiana University.
In addition, your contribution will allow us to cover our annual website hosting costs.
No gift is too small.
About the Contributor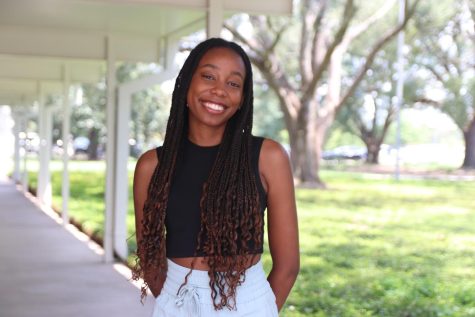 Symiah Dorsey, Staff Reporter
Symiah Dorsey is a communication major from Laplace and serves as Editor-in-Chief. Raised in Europe, Symiah is an avid lover of languages, traveling and...