Del Barrio the difference-maker in 4-3 victory over UNO
On Saturday afternoon, Southeastern junior tennis player Carla Del Barrio endured an exhausting three-set win to give the Lions a 4-3 victory over the University of New Orleans (UNO) Privateers. The win over their conference adversary put them at 2-3 in Southland conference (SLC) play.  
Coming into the matchup, Southeastern was 7-8 on the season. Saturday's victory put them back in the win column after they suffered a narrow 4-3 defeat against Lamar University on April 4.
The contest kicked into gear with a series of one-set doubles matchups. Seniors Putri Insani and Flory Bierma (10-4, 4-1 SLC) make up Southeastern's No. 1 doubles tandem; on the other side of the net stood freshman Laurie Barendse and redshirt sophomore Tristanne Dechoux. 
The Lady Lions' No. 2 doubles team, comprised of Del Barrio and graduate student Gabrielle Dekkers (4-5, 2-3 SLC) squared off against freshmen Raluca Puscas and Didi Bredberg Canizares, the reigning Southland women's tennis Player of the Week. 
The No. 3 pairing of sophomore Kate Oborina and junior Alba Perez (3-3, 2-1 SLC), facing off against sophomore Anastassia Kouchnareva and freshman Ksenia Reznitskaya, rounded out the doubles matchups on the afternoon. 
Del Barrio and Dekkers lost to Puscas and Canizares 6-2 to put the Lady Lions a set behind against UNO. However, Insani and Bierma flashed their No. 1 mettle in a 6-4 victory over Barendse and Dechoux to even the score and put the Lions a set away from securing the doubles point. 
Perez and Oborina concluded the doubles portion of the afternoon with a tough 7-5 win over Kouchnareva and Reznitskaya. The Lady Lions headed into the singles portion up 1-0. 
In the singles matchups, Insani (10-4, 2-3 SLC) spearheaded the No. 1 Court for the Lady Lions in a contest against Canizares; Dekkers (7-6, 1-4 SLC) took on Barendse on Court No. 2; No. 3 Del Barrio began what would become a taxing campaign against Kouchnareva; Oborina (9-5, 4-1 SLC) battled Dechoux on Court No. 4; No. 5 Bierma (7-8, 1-4 SLC) faced off against freshman Kateryna Kalistratova; and finally, Perez(6-8, 1-4 SLC) played sophomore Audelia Morin Kougoucheff on Court No. 6. 
UNO struck first when Bredberg downed Insani, 1-6, 2-6 to tie the match, 1-1. However, Perez answered with a 6-0, 6-2 victory against Kougoucheff to reclaim the lead, 2-1. 
"Lately, I was having a bad period. I wasn't winning and I couldn't help the team, but today, I was pretty happy because I won singles and doubles. I'm happy to help the team, and winning helps me to have confidence for the next match and for the tournament," Perez said. 
Oborina followed suit, shaking off a less-than-ideal second set against Dechoux to complete her fourth-straight singles victory, 6-3, 0-6, 6-4. 
"If I think too much, I get nervous and tight and it does not benefit me, so lately I've been trying to enjoy every match I play and keep in mind that I love tennis," Oborina said.
Bierma and Dekkers each faltered on courts 2 and 5, respectively, to relinquish Southeastern's two-run lead. Bierma lost to Kalistratova, 6-3, 2-6, 4-6 and Dekkers fell to Barendse in a 6-4, 2-6, 3-6 defeat. 
With the score tied at 3-3, Southeastern's fate rested on the shoulders of Del Barrio. 
She answered the call in emphatic fashion, capturing a grueling 7-6(10-8), 4-6, 6-3 win over Kouchnareva. She roared with pride after every point and once she finally clinched match point, the team swarmed her in celebration. 
Del Barrio credited her team for giving her the energy to push through and win the match.
"My team is everything to me when I'm on the court. Seeing all of your teammates cheering for you, believing in you, that's what makes me want to keep playing and keep my intensity. It's not my win, it's a win for the team because I wouldn't be able to win without them on the sidelines," Del Barrio said. 
Head Coach Jason Hayes praised the grit and perseverance the team displayed in the victory.
"We just had a lot of fight. We knew New Orleans was going to be a tough team, and we knew we'd have to fight for everything. We won five first sets, but New Orleans kept coming back. [Oborina] and [Del Barrio] lost the second set but came back to win the third. It was just a great effort from everybody," Hayes said.
As the season comes to a close and the SLC Championships draw nearer, Perez said she wants the team to play with more confidence to prepare themselves for the matches ahead. 
"The games that we've lost, they were pretty close. So, I would say that we have to believe a little more in ourselves. We need to have confidence and push each other up more," she stated. 
Oborina expressed a similar sentiment. She said she felt while the Lions have gotten physically stronger over the season, she and her teammates now need to improve their mental fortitude. 
"Now I think we need to focus on our mentality more, be more positive, cheer for each other and fight every single match. That's what will make a difference in the championships, and it makes a difference when we play. If we are positive, we are good. If we keep the negativity, it does not benefit us," Oborina said.
Hayes said he wants to see more "killer instinct" from his team moving forward.
"We just need to have a little more of a killer attitude. We play hard, we have a great attitude and a great effort, but I would like to see them play a little more aggressively," he said. 
The Green and Gold hit the road for their final non-conference match against Alcorn State on Monday, April 10, winning 7-0 in dominant fashion. 
The Lady Lions moved to 9-8 on the season and are currently squaring off with Nicholls at home. Head to Lion Sports for more information on Southeastern Tennis and to stay updated on the match.  
Leave a Comment
Donate to The Lion's Roar
Your donation will support The Lion's Roar student journalists at Southeastern Louisiana University.
In addition, your contribution will allow us to cover our annual website hosting costs.
No gift is too small.
About the Contributor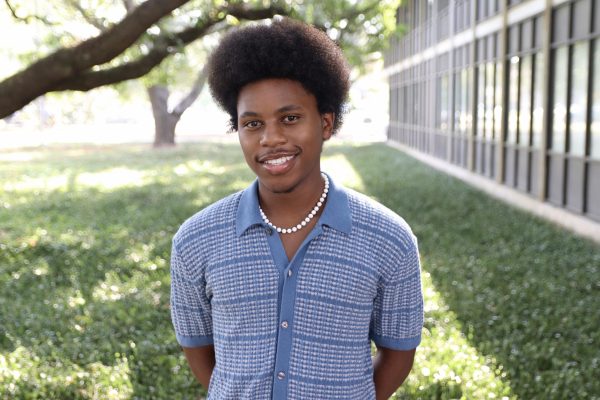 Kennith Woods, News Editor
Kennith Woods is a sophomore communication major with a concentration in television and multimedia journalism and a creative writing minor. A resident...