Dr. Herlihy hopes to use unique knowledge as full-time professor
When it comes to any college campus, there may be subjects students want to learn about that fall by the wayside. Dr. Laura Herlihy looks to utilize her experience in anthropology to fill those gaps as a full-time professor here at SLU.
Herlihy is a cultural anthropologist and a visiting professor in the Department of Sociology and Criminal Justice. In her anthropology classes, she's focused on Native American and Latin American culture and society.
This is her second stint teaching at Southeastern. In the early 90s, she and her husband Peter Herlihy, a professor of geography, both taught on campus before embarking to teach at the University of Kansas (KU) in 1993. After 30 years, though, they have decided to return home. 
"We have bought a house here, where I can be close to my family. I am a New Orleans native and would love to stay at SLU," she said. 
Herlihy has a decorated history as a student of Latin American anthropology: She received her undergraduate degree in the subject at Tulane University, her master's at LSU and her doctorate at KU. She worked at KU's Center for Latin American and Caribbean Studies for 20 years.
Her knowledge and experience in Latin American anthropology extend beyond the classroom. For the past three decades, Herlihy's developed her wealth of knowledge on cultural anthropology through a strong personal connection with the Indigenous Miskitu people of Honduras and Nicaragua. 
"Working with the Miskitu people in both Honduras and Nicaragua has given my life so much – a spiritual connection to the people and place and I have found my higher self. I also speak the Miskitu language and have been able to pass this passion on to my students. I even had a radio show in Miskitu and produced music with Miskitu musicians to revitalize their language through music," Herlihy said. 
Her incursions into learning the language began in the 90s when her husband conducted fieldwork in Honduras. 
"It was necessary for me to learn because I was staying behind in the villages, working with women who didn't speak Spanish. As an anthropologist, you get better data. You find concepts that don't translate. Then you know you're on to something," Herlihy said.  
She eventually developed a Miskitu operetta called "Green Man, Blue Woman." She lived in Nicaragua in 2004 and taught at a university for Indigenous students. 
Her close bond with the Miskitu people has also brought "loss and grief," however, due to the political turmoil the Indigenous tribe faces in Nicaragua. In 2018, after protests broke out over fires in the Indio Maíz biological reserve, an important Central American tropical rainforest, the Nicaraguan government responded with deadly anti-democratic violence and oppression. 
In response to the political and ecological crisis, Herlihy became an activist for Miskitu land rights. She wrote articles outlining state violence against the Miskitu, which got her banned from entering the country last summer. She also works as a translator and expert witness in the U.S. immigration court for Miskitu asylum seekers. 
In 2016, 2017 and as recently as this year, Herlihy assisted Miskitu leaders at the ​​United Nations Permanent Forum on Indigenous Issues (UNPFII) in New York City. 
"I began going to the UNPFII as an academic observer and helped with recording videos and pictures of Miskitu leaders speaking to put on their social media websites back in Nicaragua. This year the leaders asked me to register as their sponsoring Miskitu NGO's (non-governmental organization) focal point. This was a result of all the NGOs in Nicaragua being canceled by the repressive government," she said. 
Since returning to Southeastern, she's been steadfast in her goal of bringing focus to Latin American and Caribbean anthropology to the department. According to the 2022-2023 course catalog, there are currently no anthropology classes focused specifically on Latin American or Caribbean studies. Herlihy hopes to expand students' educational access to these subjects through a full-time professorship. 
In 2011, she started directing a KU study abroad program that allows students to learn the language and engage in the culture of the Miskitu people. Herlihy's program receives support from the U.S. Department of Education. She presented her findings from the program this semester to the Association of Academic Programs in Latin America and the Caribbean conference in Chiapas, Mexico.  
Herlihy also gave a presentation for Women's History Month in March entitled, "Mermaids, Magic and Motherhood; Indigenous and Afro-Caribbean Women's Agency in Central America." The presentation, made in conjunction with the History and Political Science department's Spring Lecture Series, was a summary of her 2012 book, "The Mermaid and the Lobster Diver." 
While Herlihy isn't sure what will happen during her second spell at Southeastern, she plans to extend her time here far past her visitorship. She's happy to be home and hopes she'll be able to use her expert knowledge in cultural anthropology and experiences as an activist for Indigenous rights for the betterment of Southeastern students. 
Editor's Note: As of June 12, Dr. Herlihy returned to her position at the University of Kansas.
Leave a Comment
Donate to The Lion's Roar
Your donation will support The Lion's Roar student journalists at Southeastern Louisiana University.
In addition, your contribution will allow us to cover our annual website hosting costs.
No gift is too small.
About the Contributor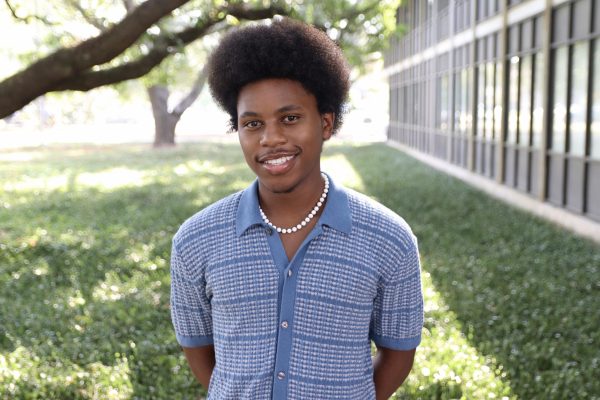 Kennith Woods, News Editor
Kennith Woods is a sophomore Communication major with a concentration in Television and Multimedia Journalism and a Creative Writing minor. A resident...