Southeastern's Counseling Center is bringing the American Foundation for Suicide Prevention's "Talk Saves Lives" to campus to educate faculty, staff and students about what to do when a mental health crisis arises. SLU campus-specific tools and information will be provided.
"Talk Saves Lives" was created by AFSP to educate everyone on understanding suicide and suicide prevention. Participants will learn how to recognize warning signals and develop empathy for individuals who struggle with suicidal thoughts. A Southeastern-specific section will outline how to handle on-campus mental health emergencies and where to find campus and off-campus support.
Assistant Director of the University Counseling Center, Courtney Williams, acknowledged it can be hard to ask someone the question, "Are you thinking about suicide?" The goal is to empower everyone on campus to ask someone if they are in a state of crisis, with the confidence that the UCC and UPD will be there to help and support them.
"I hope for everyone to feel equipped with the correct information on how to help themselves or someone else in a mental health emergency," Williams said.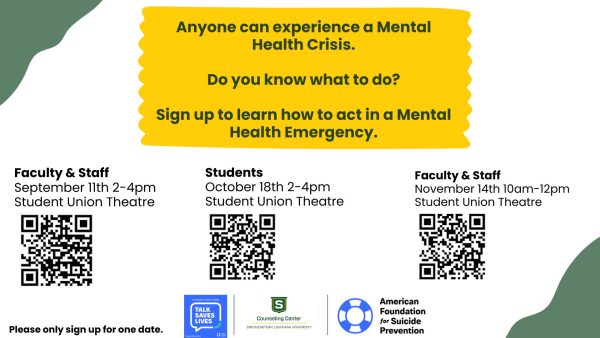 A crisis intervention toolkit on how to help someone in a mental health emergency will be handed out to all participants, as well as a certificate of completion.
"Talk Saves Lives" will take place in the Student Union Theater. There will be two presentations for faculty and one for students in the upcoming months. The first two presentations are for faculty and staff and are ongoing today, Sept. 11; a second will be held Wednesday, Oct. 18. The student presentation is in November.
"I hope that people are not fearful of attending this program. I would rather someone be anxious and knowledgeable on what to do in a crisis than anxious and not knowledgeable," Williams said.
The UCC is available 24/7 for mental health emergencies. Someone in a mental health crisis can walk in for a crisis meeting or call the UCC. There is always a counselor on call.
Williams stressed the importance of asking hard questions, checking on each other and feeling prepared.
"When we check in on each other, we can save lives," she said.
For more information on the upcoming presentations, scan the barcodes at the top of the page. Call, visit the UCC's website or head to the UCC's office to talk to a counselor or learn more on what to do in a crisis.