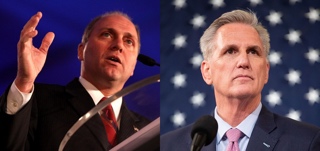 On Oct. 12, Rep. Steve Scalise (R-La.) rescinded his candidacy for Speakership. On Oct. 13, Rep. Jim Jordan (R-Ohio) reannounced his candidacy for Speakership.
On Oct. 25, Rep. Mike Johnson (R-La.) was voted in as the new Speaker of the House.

Rep. Kevin McCarthy (R-Calif.) was ousted as Speaker of the House in a 216-210 vote on Tuesday, Oct 3. 
This comes only a few days after pushing through a spending bill that prevented a government shutdown. The bill did not include the many spending cuts that the far-right lawmakers wanted. Instead, McCarthy worked with House Democrats to get the bill passed before the midnight deadline.
The effort to get him ousted was led primarily by Rep. Matt Gaetz (R-Fla.), who claimed in an interview with CBS that McCarthy needed to "come into compliance with the deals he made in January or else he will face a motion to vacate." 
McCarthy, in a tweet, responded, "Bring it on."
Far-right Republicans have pushed for McCarthy's ousting since he first became speaker after 15 rounds of voting in January. In their view, he made many deals that limited his effectiveness as Speaker. 
Many of the deals McCarthy made would end up causing him grief as the months went on. He made concessions to the far-right that put them in more powerful positions, such as on the Rules Committee. As a result, it became very difficult for legislation to get passed without the far-right's support. 
He also agreed to a rule that allowed only one member of the Republican Party to call a vote for removal of the speaker. In previous congressional sessions, a vote for removal required support from over half a party's membership. 
The most important deal McCarthy made in order to become Speaker was to make it harder for spending bills and tax increases to be passed. It's possible for a single representative to stop a bill entirely and it takes 60% of the house to agree to a tax increase. 
This was the clause that Gaetz claimed McCarthy didn't keep his word on. The temporary spending bill included many of the things that far-right Republicans did not want, such as natural disaster aid and money for Ukraine. Even with the overwhelmingly bi-partisan vote of 335-91 in favor of the bill, it was still enough for Gaetz to call for a vote to oust McCarthy.
Along with Gaetz, all Democratic representatives and fellow Republican representatives Andy Brigs (R-Ariz.), Ken Buck (R-Colo.), Tim Burchett (R-Tenn.), Eli Crane (R-Ariz.), Bob Good (R-Va.), Nancy Mace (R-S.C.) and Matt Rosendale (R-Mont.) all voted have McCarthy ousted, marking the first time in history that a Speaker of the House was ousted by a vote to vacate the chair. 
Once the voting concluded, McCarthy ally Rep. Patrick McHenry (R-N.C.), took up the gavel to serve as speaker pro-tempore until a new speaker is voted in.
On Oct. 11, Republican lawmakers chose Rep. Steve Scalise (R-La.) as their nominee for speaker, winning out against Trump ally Rep. Jim Jordan (R-Ohio) in a closed-door 113-99 vote. It is possible for the full House to vote this Wednesday, but it is unlikely. 
It remains to be seen whether Scalise can get enough votes to win the speakership, considering it took McCarthy 15 rounds and lots of deals to win his bid.