On Thursday, Nov. 2, communication students and faculty gathered in the iHub for a Q&A session with Good Morning America (GMA) co-anchor and Southeastern alumna Robin Roberts. 
Roberts visited her alma mater for the D Vickers renovation groundbreaking; she has donated a substantial amount to the $40 million project. In honor of her contribution, SLU legacy and success, the newly renovated building will include the Robin Roberts Broadcast Media Center, a state-of-the-art facility designed to provide the next generation of communication students with a litany of cutting-edge equipment. 
Following the groundbreaking, Roberts met with communication students and faculty in the iHub, where a few were allowed to pick Roberts' brain about her career and the broadcast industry. 
"When I graduated, I had on my whiteboard to work in a small market for however long, then a medium-sized market, then ESPN. It's so different today. I'm very grateful for the traditional route I took, but the path can vary now," Roberts said. 
Students asked questions about various subjects, including her views on name, image and likeness deals for student-athletes, GMA's social media engagement and time management strategies she began developing in college.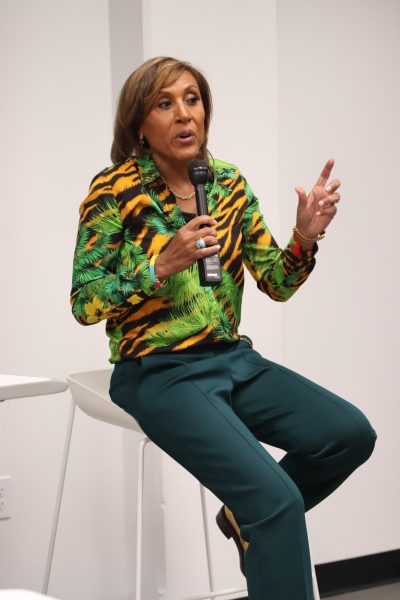 "I only had a certain amount of time to study, because I had to be up early for the sportscast with WFPR, then I would go to my 8 a.m. class, whereas some of my classmates had all day to study and they never got around to it. Whatever it is that I'm doing at that moment has my complete focus," she said.
Alexis Lee, a junior with a concentration in multimedia and journalism, asked Roberts about her alternative career choices when she was a student at SLU. Roberts replied broadcast journalism was her alternative. 
According to Roberts, she initially wanted to be a pro athlete, but realized that dream wouldn't come true after defeating a local pro women's team. Then she wanted to be a pilot like her father, Col. Lawrence E. Roberts, a Tuskegee airman. She said she promised her parents if she failed the military pilot test, she would stay at SLU. 
"I didn't come close to passing, though I still think my dad rigged it," Roberts said. 
Sally-Ann Roberts, Robert's sister and a long-time anchor for New Orleans' CBS affiliate WWL, helped her secure a sports broadcasting job at WDAM-TV in Hattiesburg, Mississippi, paving the way for Roberts to secure a job at ESPN in 1990. 
Ricky Woodson, a senior sports communication major, asked Roberts about leading a new ABC News Studios production unit focusing on "heartfelt storytelling that reveals the mosaic of humanity." 
On Monday, Nov. 6, Roberts traveled to Nashville, Tennessee, for a series called "Introducing" where she and her production shine a spotlight on people on the cusp of fame. 
"I'm very excited because I love GMA, the people I work with and being in the news division, but my unit allows me to do the things I want to do. I'm doing a whole host of different programming," Roberts said. 
She commented on her former team, the Lady Lions basketball program, saying how proud she was of their 2022 championship season and the program's development. 
Roberts gave a word of advice for the Green and Gold as they prepare for their Friday, Nov. 17 matchup against the reigning NCAA champions, the LSU Lady Tigers: "Take 'em down, baby! The bigger they are, the harder they fall. Just go for it. Look them straight in the eye; they're no different."  
She ended the Q&A session by reminding students the path to success looks different for everyone. Roberts advised students to reach out to professionals that mirror their desired path, but also remember they need to be themselves as well. Students have plenty of self-worth and value, even if they lack experience. 
Roberts added, "Don't want to be the next whoever. Be you. There's no one else who has your fingerprints. We're so unique and it's so important you realize you're a masterpiece. Right now, you're a masterpiece."