The six-string fills Pottle with rock, blues and original works
Musicianship branching from the music department, computer science department, Sims Memorial Library and a local high school came together to celebrate multiple genres through guitar play. The musicians celebrated several artists' works including The Beatles, Kaleo, Huey Lewis and the News and Stevie Wonder.
The department of fine and performing arts presented "All Styles Guitar Night" on April 10 at 7:30 p.m. in the Pottle Auditorium. Instructor of Guitar Patrick Kerber emceed the event and played alongside a faculty band "The Impaired Faculties" towards the end of the event.
Sophomore music major Michelle Brister, performed a song by Jill Scott and one of her own songs. Brister explained why she participated in this event.
"The performance was not a requirement," said Brister. "It was just for fun. I performed just to have experience and somehow get rid of this stage fright."
One of the first performances was by Instructor and Reference/Instruction Librarian Benjamin Bell who performed two original pieces, "What You've Done to Me" and "Gin and Tonic." Bell described the backstory to his two songs.
"I wrote 'What You've Done to Me' about eight years ago when Maureen and I were just dating," said Bell. "Being apart from her and listening to classic country and folk made me melancholy. 'Gin and Tonic' is about two years old and is also steeped in the vintage music I love. It's just a happy, little song about how awesome my wife is. Can't help it."
Brister performed "He Loves Me" by Scott and her own composition "Quiet Place" soon after Bell.
Brister shared that "He Loves Me" opened her up to what real love was all about.
"When I first heard that song, Scott painted the picture so vividly on what love is," said Brister. "I wanted to experience love the way Jill Scott did. I wanted to be able to say 'Yes, my significant other loves me unconditionally' and show the world why I admire my man."
Brister then discussed that she wrote "Quiet Place" in high school during a period when all of her friends had a boyfriend except for her, and she wrote what her ideal relationship would be like. She shared that she was a little nervous while performing her song.
"While performing 'Quiet Place' last night, I was afraid of the people's response," said Brister. "I am the type of person that wants everyone to accept me. I slowly realized it does not work that way, that it's important to just show yourself to the world and not worry about who likes you or not. It only matters when you're not afraid to put yourself out there. I am trying to reach that point."
Patrick Kerber's daughter, Hammond High Magnet School senior Jessica Kerber performed two solo songs: "Norwegian Wood" by The Beatles and her own song "What You Need."
Jessica Kerber wrote "What You Need" as an expression of having a "fresh start with a new person or city or school or anything that isn't quite familiar," but not being scared of what awaits. She explained that she added a bridge to the song a couple of days before a competition at Berklee College of Music.
"When I added the bridge to the song in Boston, I didn't think too much of it at the time due to time constraint," said Jessica Kerber. "But now as I reflect on my time at Berklee, I see that part of the song as an expression of the happiness and independence I felt being in Massachusetts for the first time by myself for five weeks. There are no words in the bridge, only some melodies that I sing, and I think that can act as the transition period you experience going from one place in yourself to another."
Growing up in a musically-inclined family, Jessica Kerber started to learn guitar around age 13. She will attend Berklee College of Music next fall and explained how practicing is and will be an essential part to her schedule.
"In terms of practicing, I always am," said Jessica Kerber. "There isn't a time where I put down my guitar or do not sing for a few days. Every day, I am either playing for hours at a time, or when I'm busier, I pick it up throughout the day. I can't really tell you an amount of time it took me to practice my songs, but I say that I will never be done practicing them."
About the Writer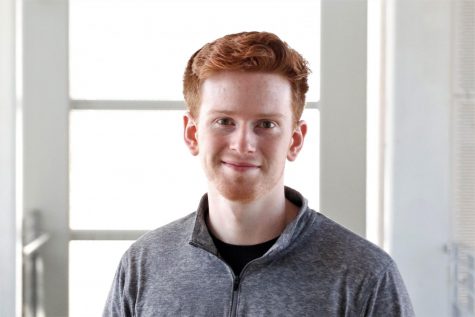 Jacob Summerville, Editor-in-Chief
Jacob Summerville, a history and political science major, has worked at The Lion's Roar since September 2017. A native of Greenwell Springs, LA, Jacob...