Robinson takes first place in CAB talent show
Students showed off their talents from singing or beatboxing to stand-up comedy on stage at the Campus Activities Board's talent show.
The performances entertained an audience in the Student Union Theatre on March 27.
Ariana Robinson, a freshman art major, took first place with a hula hoop performance.
"It truly is an honor to be voted first place by the judges," shared Robinson. "I was nervous, but all of that stopped when I stepped on the stage. I have been practicing for 10 months now and have been practicing every day since then. It is a surreal feeling to win first place. "
Robinson received a $500 dollar scholarship for placing first. Angelica Dauenhauer, a freshman education major, won the people's choice, and Emily Jones, a freshman art major, earned third place.
Brian Williams, a junior communication major, placed second for performing "I Write Sins Not Tragedies" by Panic! at the Disco. Though Williams has played saxophone since 2012, he recently started preparations for the show.
"I actually only started practicing specifically for the talent show maybe two weeks ago," said Williams. "It kind of crept up on me. That's why I missed so many notes. CAB always does an amazing job, and I'm so thankful that they put something like this together, to let us showcase our talents and give us an opportunity to perform."
Though Williams did not originally plan to compete in this year's talent show following his performance last year, a friend convinced him to compete again.
"Plus, I always love to perform," stated Williams. "I am glad I chose to perform again this year. It was originally going to be an arrangement of 'Africa' by Toto or the song I chose, 'I Write Sins Not Tragedies' by Panic! at The Disco, but my brother made me realize I would just have more fun performing 'Sins.' I wanted to pick a modern classic that everyone would recognize."
About the Contributor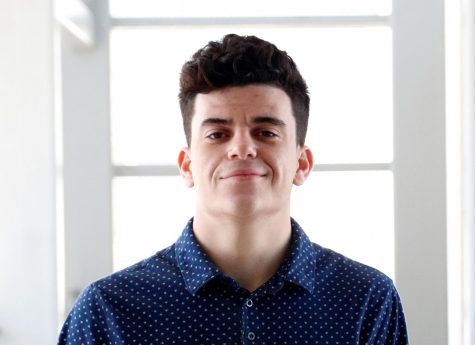 Gerard Borne, Editor-in-Chief
Gerard Borne is a communication major from Norco. Borne began working at The Lion's Roar in the fall of 2018. Borne plans to become a sports agent upon...