This week's look at the campus outage
As of Monday, March 7, the university has sent out three emails on the network outage that persists on campus.
Moodle, LEONet, and on-campus WiFi remain down, but the website and emails are back. Interim Chief Information Officer of the Office of Technology Dr. John Burris addressed student concerns about Southeastern's WiFi restoration.
Even though the university hasn't said when internet access or Moodle will be back up and running, student emails are reportedly in the clear. If, however, students are still having email troubles, Burris suggested they visit the Student Help Desk in Fayard Hall room 126 to resolve any issues.
Regarding the content of the Take Note notifications and what gets covered versus what doesn't, Burris stated the only items that make it into the official notices are the facts the university is absolutely positive are true.
"Saying a standard response like 'The Office of Technology is working through the night to restore services to a more secure and standard way' doesn't say much. It's a standard response. All the stuff we know, we report with the Office of Media and they vent it and formulate it down for the notifications. A lot of it for us is up in the air, we're not super confident in our communications so they help us," Burris said.
Louisiana State Police are currently calling the incident a "network security incident."
Dr. Burris would also like to thank the faculty and the staff for their perseverance. "I've had very few incidents of people who have faculty unable or unwilling to teach. It has been extremely impressive how we're persevering," he said.
When it comes to accommodations on campus, people have been finding a way. Cash and SLU IDs are being taken as payment for most of the markets and food sources on campus and other on-campus soon-campus either out of use or are making accommodations. Faculty and staff are still utilizing Google Classrooms and the GroupMe messenger app.
Also, students have resorted to using the Hammond Branch of the Tangipahoa Parish Library and even Luma Coffee Roasters for printing services. 
With the mass email update sent on March 1, an infographic was included to raise students' awareness of cyber safety issues. Phishing, when a cyber threat poses as a legitimate organization, and regular password changes were also discussed.
Additional precautions include using multi-factor authentication for online accounts, keeping software up-to-date and placing a freeze on your credit.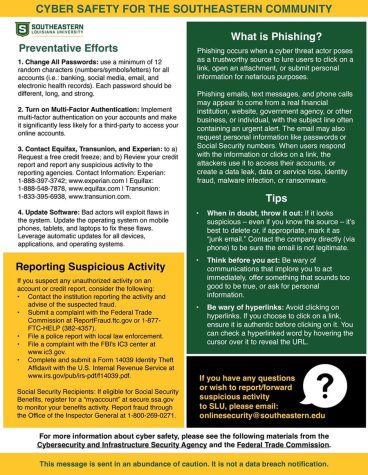 One day later on March 2, President John L. Crain sent out his "Message from the President" email and addressed the situation. He began by reminding readers that SLU has dealt with many hardships, disasters and emergencies in the past and the university has always been able to endure it through determination and cooperation. 
Crain continued, "I share your current frustration but must ask you to be patient as the technology team works diligently to return our systems as quickly and safely as possible. This past week's network incident is no less disruptive than the many hurricanes we have survived. Unfortunately, like a power outage following a hurricane, it is impossible to predict exactly when all services will resume." 
Further along in the message, Crain assured students that the provost and dean have instructed faculty to work with students to minimize the impact of the outage, adjusting deadlines and course activities as appropriate.
He ended the email by stating, "The strength of any family is tested by adversity. I know the strength of our Southeastern Family will prevail through this adversity as it has through many others." 
The latest update from Southeastern was March 5. There was no mention of Moodle and other online resources besides the available website. Similar to the president's message, students are being reassured that there are efforts being put in efforts are beingze the impact of the outage.
The email said, "As in those circumstances, we will adapt policy and practice appropriately and execute both consistently. An academic continuity plan has been developed for classes that include an online component, including course material, assignments, etc., and is being communicated by faculty to their students." 
While this was stated, there have been no updates to the no updates to the academic calendar have been, available on SLU's website.
The update continues to state that they understand students have concerns regarding the data that was involved and they are working on identifying data, if any, that was included and are determining whether the data contains personal information. 
If personal data was involved, students will be notified in accordance with applicable law as quickly as possible. Their notice will include more information about restorative and protective resources and assistance that will be made available to them free of charge.
If you have concerns about classes and grades, do not hesitate to contact your teacher via email or find them during office hours. The Student Government Association has posted the deans and department heads of every college on its Instagram. 
For online classes, sources have recommended using Google Chats, email or using their office phone number to contact the professor. SGA also recommends contacting department heads or use Facebook Groups to reach out to classmates. 
To be in the know with continued updates from The Lion's Roar, please check back on our website.
Leave a Comment
Donate to The Lion's Roar
Your donation will support The Lion's Roar student journalists at Southeastern Louisiana University.
In addition, your contribution will allow us to cover our annual website hosting costs.
No gift is too small.
About the Contributor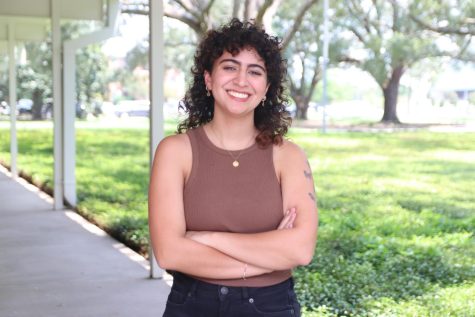 Chloe Williams, Co Editor-in-Chief


Chloe Williams is an English major with a concentration in creative writing and minors in communication and theater. She hopes to become a newspaper...