Biology class saving the wetlands one Christmas tree at a time
Dr. Robert Moreau's general biology class, an environmental awareness course, volunteered to go out to Manchac to restore wetlands with recycled Christmas trees, something he has been doing with his class (GBIO 281) for about 15 years.
One group of students went out to Manchac on March 10 to prevent erosion, create habitats, keep the trees out of landfills and learn how to do hands-on environmental work. 
"When you put those trees out in the marsh along the bank, the natural grass starts to grow up into the Christmas trees and the trees serve as a base of new land. Then when the tides come in and out, some of the sediments in the water get trapped by the Christmas tree(s) and land builds up that way. The benefits are you help create a habitat with the Christmas trees, you help prevent erosion, you're keeping the trees out of the landfills and you get some good hands-on environmental education," Moreau said. 
The project is made possible by the student volunteers and many partners who assist in wetland restoration: The City of Hammond, The City of Ponchatoula and Middendorf's. 
Madison Brady, one of Moreau's students, said, "My experience today was really fun, unique and educational. I've never done something like marsh restoration, so I'm glad I got to try something new. I also got to learn what eroded wetlands look like in person."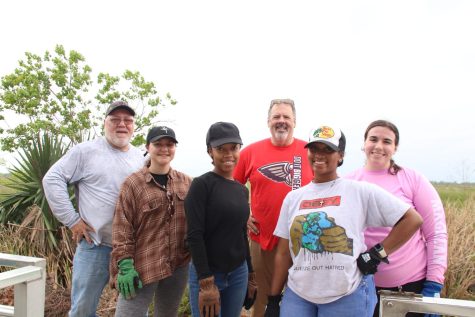 An eroding wetland has a lot of grass, but one can see wave action and where storms may have taken chunks away from the bank. According to Moreau, there was a loss of cypress trees in the area due to deforestation, so the cyprus roots couldn't hold the soil together.
"We use the Christmas trees as a barrier to prevent erosion and to help limit the impact of waves," Brady said.
The trees are vital to decrease erosion. Marshes are dominated by grass, so they are susceptible to erosion; however, wetlands are dominated by trees, so they are less likely to erode. 
Moreau said, "The grass will start to grow up immediately in the spring and after a few weeks or a few months you'll see where the trees start to become a part of the landscape."
Everyone on the trip was able to place Christmas trees in eroding areas of the wetlands, then placed stakes to tie a string around the trees to constrain them. As the boat left the restoration area, everyone looked back at their hard work knowing they helped the environment.
"It is a very gratifying feeling to know you are doing something that is important and that helps your state. Louisiana is my home state and I care deeply about it and its natural environment. Anything I can do to help, whether it's teaching, doing research, bringing Christmas trees out, helping to plant cypress trees, talking to K-12 kids or university students, taking field trips for other community groups, I will," Moreau said.  
Consider helping save the depleting wetlands by donating/recycling Christmas trees after Christmas 2023. For more information, email Moreau. 
Leave a Comment
Donate to The Lion's Roar
Your donation will support The Lion's Roar student journalists at Southeastern Louisiana University.
In addition, your contribution will allow us to cover our annual website hosting costs.
No gift is too small.
About the Contributor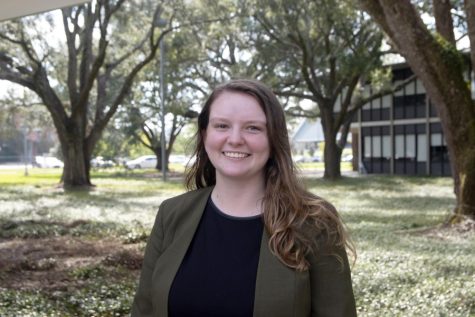 Hydee Holsapple, Copy Editor
Hydee Holsapple is a double major in Integrative Biology and Communications. She loves learning, has an exemplary school spirit and is recognized by the...