Southeastern Theatre closes spring season with "The Truth About Winnie Ruth Judd"
Southeastern's 2022-2023 Mainstage season will come to a close with the world premiere of "The Truth About Winnie Ruth Judd," a drama written by playwrights Cathy Dresbach and Ben Tyler. The production will hold a preview on Tuesday, April 25; the official run is Wednesday, April 26 to Saturday, April 29. 
Dresbach's and Tyler's play gets to be featured on Southeastern's Mainstage thanks to its success in the 2022 edition of the Southeastern Inkslinger Playwriting Contest. Every year, playwrights across North America submit their work for adjudication from 30 local and national judges. 
The winning play receives a full production in the subsequent season and the playwrights are flown out to Hammond to watch their creation come to life. Dresbach and Tyler, longtime writing partners from Phoenix, will soon get to enjoy the spoils of their victory. 
"The Truth About Winnie Ruth Judd" is "about the birth of true crime drama," according to senior elementary education major Lanie LeFranc. The story follows the true events surrounding Judd, portrayed by junior English major and The Lion's Roar Co-Editor-in-Chief, Chloe Williams, and her 1932 murder trial in Phoenix, which became a national sensation. 
She was accused of committing a double homicide; the bodies, one of which was dismembered, were found in steamer trunks on a train to Los Angeles. 
The media, particularly the Phoenix radio station KOY and its host, Jack Williams, played an integral role in the trial's popularity. Their dramatization of the trial – which included giving her nicknames such as the "trunk murderess" and the "blonde butcher" – was a prelude to the expansive catalog of true crime entertainment people consume today. 
Dr. Anne-Liese Fox, a theatre professor at Southeastern and frequent director of school productions, once again took up the mantle to direct the world premiere of "The Truth About Winnie Ruth Judd." Last fall, she performed a monologue in the Mainstage production of "The Way We Say Goodbye."
Fox discussed the conversations she's had with Dresbach and Tyler over the past year and how their research into Judd helped flesh out her vision for the show. 
"I've been very fortunate to direct the Insklinger winner for the fourth time. I get to be in touch with [Dresbach and Tyler] and talk about possible changes or cuts needed to make the first production work. With this particular production, they shared with me all of their research on Judd. That's unique, directors don't usually get to collaborate with the playwrights in that manner," Fox said.
LeFranc is a veteran of Southeastern's Mainstage; she has performed in a litany of productions, most recently being "The Bald Soprano" in Fall 2022. In Fox's production, she plays a multitude of characters, including Sammy Samuelson, one of the two women Judd allegedly murdered. 
She expressed how the challenge of taking on various roles in a single production pushed her to grow as an artist. "I have learned how to be a more versatile actor and expand my vocal range. I have also learned to thrive in a quick-paced show by giving attention to many tiny details that make a difference in the show," she said. 
Nico Arcuri, a junior theatre major, stars as Williams, the KOY radio host. Arcuri was also seen in "The Bald Soprano" last fall and has appeared in an array of Southeastern productions. 
Arcuri said he's "looking forward to bringing [Williams] to life." He commended the cast and crew for their ability to "hit the ground running" with Dresbach's and Tyler's play given the short turnaround they were allotted to put the production together.
"I think Dr. Fox put us together because the show needed hard workers to make it happen in the amount of time we had," Arcuri said.
LeFranc commented on the camaraderie amongst the cast and crew that exists both on stage and behind the curtain. 
"It has been a unique experience to support each other not only off stage but on stage as well. With how technical the show is we get to help each other and show support as the show goes on," she said.   
Fox talked about how her previous experiences in directing helped her enjoy putting together the show and working with her cast and crew. 
"I've learned this a long time ago: trust your actors. Trust your collaborators and trust their instincts. Their ideas and impulses help carve out a new production, especially because we are doing the first production of this play. We're pioneers in a lot of ways. Trusting them and the playwrights is a lesson I've already learned and I've felt the fruits of that lesson in this process," Fox said.  
Fox's production will take place at Reimers Memorial Auditorium in downtown Hammond. Tickets are free for Southeastern students, $20 for general admission and $15 for seniors, military and non-SLU students. Tickets can be purchased at the door or online. Visit Southeastern Theatre's website for more information.   
Leave a Comment
Donate to The Lion's Roar
Your donation will support The Lion's Roar student journalists at Southeastern Louisiana University.
In addition, your contribution will allow us to cover our annual website hosting costs.
No gift is too small.
About the Contributor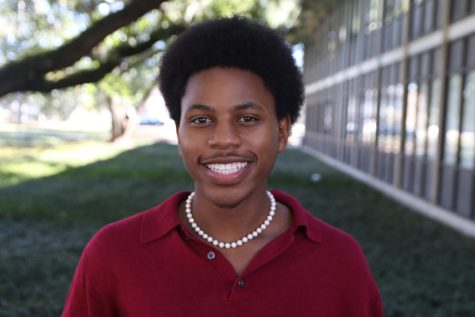 Kennith Woods, Staff Reporter
Kennith Woods is a Political Science and Communications double major with a concentration in Television and Multimedia Journalism. He's been a staff...