Scrutiny towards TikTok continues with potential Livingston Parish ban
On Tuesday, March 7, an ordinance in Livingston Parish was proposed that would ban the use of TikTok on all government-issued devices. The bill is the latest in a tidal wave of renewed governmental scrutiny of the app in recent months. 
Conservative Councilman Garry "Frog" Talbert, the representative of Livingston's second district, proposed the potential ban. His opposition to the widely-used app is out of concern China is using it to collect American citizens' information.
"At tonight's council meeting, I proposed banning TikTok from parish devices. TikTok has close connections to the Chinese Communist Party and homeland security officials have deemed it a threat to national security. As a result, Federal, state, and local government bodies are banning the app across the country and here in Louisiana," Talbert wrote on Facebook following the meeting. 
Talbert's ordinance has yet to gain any traction with the parish council. He reintroduced the ordinance for discussion on Thursday, April 13 and Thursday, April 27; the bill did not come up for a vote in either meeting. 
Since the ban's introduction, Talbert's most vocal supporter has been conservative Councilman Shane Mack, the representative for Livingston's ninth district. 
"I'm not introducing the bill, but of course, if it comes up for a vote, I'll be voting to ban TikTok on Livingston Parish government devices," Mack said. 
He noted that he would support a ban of "all social media on government devices," not just TikTok. 
Both Talbert and Mack are running for seats in Louisiana's House of Representatives this fall. Talbert is running for House District 64, while Mack is looking to succeed his brother, Sherman Mack, in House District 95.
Tejiri Onafowokan, a freshman political science major, voiced her opposition to a TikTok ban. Specifically, she expressed concern that a ban would result in serious financial consequences for content creators on the app. 
"The platform has provided a lot of content creators a means of monetizing their content. The banning of TikTok could render some people jobless," she said.  
Freshman computer science major Jackson Marbles conveyed mixed feelings about a potential ban on TikTok. While Marbles said the ban "works in favor of some areas and doesn't in others," he also acknowledged dangers on TikTok are present on "all kinds of social media." 
Their opinions on the app and potential bans reflect young people's outlook in general, as 39% of young Americans do not view TikTok as a threat, and 33% view it as a minor threat. Seven in ten Americans overall, however, view TikTok as a threat to national security. 
On the state level, Louisiana Secretary of State Kyle Ardoin banned the app on all government-issued devices in his agency last December. After urging from Ardoin and Commissioner of Administration Jay Dardenne, Democratic Gov. John Bel Edwards permitted Dardenne to ban TikTok from specific state networks. 
On Jan. 3, Louisiana Superintendent of Education Cade Brumley took the state fervor against TikTok by insisting education officials across multiple school districts should not only ban the app from publicly-funded devices but also eliminate it "as a communication outlet for school systems and schools, including co-curricular clubs, extracurricular organizations and sports teams." 
The Louisiana State Legislature reconvened on Monday, April 13. Throughout the general session, Ardoin will likely push for a TikTok ban to officially become state law alongside conservative state Representative Daryl Deshotel from House District 28. 
Around half of all state governments have banned the app from government-issued devices. In April, Montana became the first state to propose a ban on TikTok on personal devices. The bill would prevent app stores from listing TikTok and impose fines of up to $10,000 per day per violation. 
On the national stage, the U.S. House of Representatives banned the app from House devices just before 2022 ended. Around the same time, President Joe Biden signed a limited ban into law, prohibiting nearly 4 million federal employees from using the app.  
The White House also issued a memorandum in late February that gave agency staff 30 days to delete the app. In addition, during the Trump administration, the U.S. armed forces barred the app from military devices. 
Biden then threatened an outright ban of the app if ByteDance didn't sell TikTok to an American-owned company. 
The current political uproar against TikTok peaked during a congressional hearing in late March, where CEO Shou Zi Chew faced bipartisan questioning for over five hours. 
"You damn well know that you cannot protect the data and security of this committee or the 150 million users of your app," Rep. Kathy Commack (R-Fla.) said to Chew during the hearing. 
Chew emphasized that outside of being based in China, TikTok and ByteDance have no involvement with the Chinese government. Furthermore, he has "seen no evidence that the Chinese government has access to [TikTok's] data." Rep. Anna Eshoo (D-Calif.) called Chew's comments "preposterous."
Onafowokan criticized the congressional hearings; from her perspective, the representatives conducting the hearing were biased against TikTok and Chew. 
"Congress' concerns do not seem substantial. The basis of their concerns is tied to the fact it is a Chinese-owned app. The videos I watched about the hearing further proved that Congress does not have any valid reason other than their biased view on it being owned by China, therefore threatening data privacy," Onafowokan said.
While young people have contrasting views on TikTok than Americans in general, governments nationwide have become increasingly aligned against the social media app. Now that states and the Biden administration are each taking more explicitly aggressive measures against TikTok, its future as a freely available app in America may soon be up in the air. 
Marbles reflected little concern over the possibility of a ban being instituted, however; the app, after all, is a behemoth in the states. 
"I think the proposal has its merits, but society made TikTok so popular the media will find any way possible to dunk on the ban," he said. 
The next Livingston Parish Council meeting is at 6 p.m. on Thursday, May 11. Meetings are open to the public. Citizens can visit here to access their parish government's website to stay informed on local community politics. 
View Comments(1)
Donate to The Lion's Roar
Your donation will support The Lion's Roar student journalists at Southeastern Louisiana University.
In addition, your contribution will allow us to cover our annual website hosting costs.
No gift is too small.
About the Contributor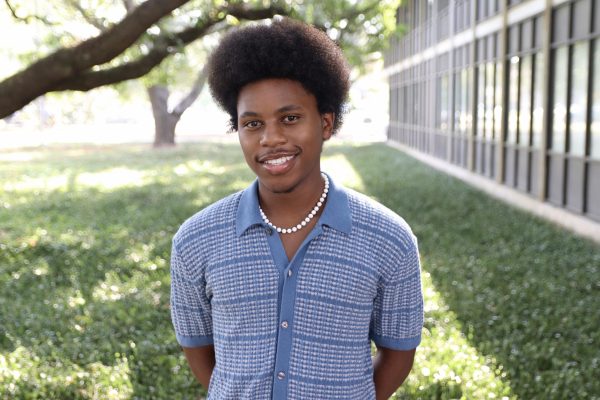 Kennith Woods, News Editor
Kennith Woods is a sophomore communication major with a concentration in television and multimedia journalism and a creative writing minor. A resident...