Friendship Oak, a well-recognized symbol at SLU for decades, is still undergoing a preservation initiative. 
The project began in the Fall of 2022 and is headed by Assistant Director of Physical Plant Services Carlos Doolittle with help from consulting arborists, Dr. Malcolm Guidry and Dr. Fred Fellner. 
Southeastern's Physical Plant Services also collaborated with other organizations, including Bob's Tree Preservation and Nursery, to accomplish some of the restoration objectives including root drainage, removing compacted mulch and adding wood chips underneath the canopy.
"The primary goal of the project has been to remediate the soil condition to benefit the tree roots. Over recent years, Friendship Oak has reduced top growth to balance with the loss of root quality.  The decline is ultimately attributed to excess water retention and soil compaction in the root zone. Roots need air exchange," Doolittle explained. 
Efforts to improve the condition of the soil and roots include removing compacted pine bark mulch, adding new drainage catch basins over existing drainage lines, using compressed air to open trenches for drains connected to the basins and loosening the soil underneath the tree.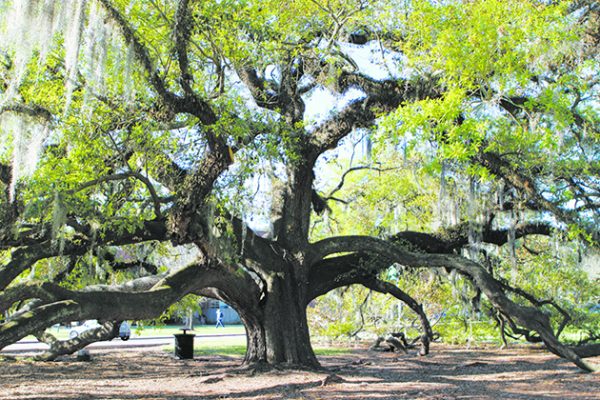 Many of these improvements were made in December and January. During this time, the area around Friendship Oak had been closed off to allow the tree branches to spread out.
"The campus community has been respectful to avoid walking on the loosened soil under Friendship Oak. Campus notifications explained the purpose of the project and temporary signs around the tree instructed visitors to not enter the mulched area," Doolittle said. 
The protective elements around Friendship Oak involve relocating sidewalks and adding metal posts and chains to limit foot traffic around the root zone. Groundcovers will also be planted in the mulched area under Friendship Oak to further discourage foot traffic around the tree. 
One new addition to the area that is not related to the restoration will be bronze plaques placed on brick pedestals. These plaques will tell the story of Friendship Oak and why it is considered a campus symbol. 
SLU's Landscape Grounds Department said they are grateful for the support and cooperation they received from the campus community. Despite the advanced age of the tree, new growth in the leaves during the spring showed small signs of improvement for the tree at large.