New faces, new season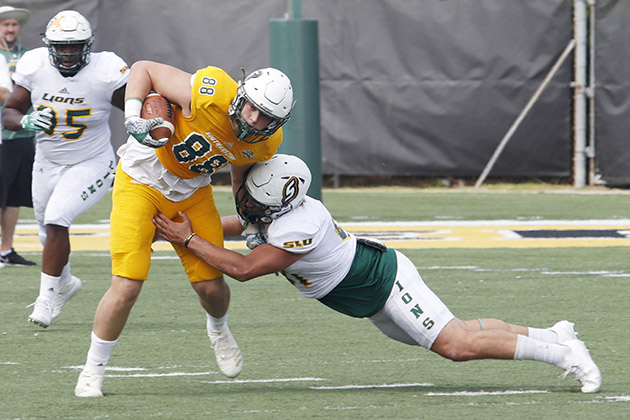 The university football team welcomes 17 new recruits to the team roster for the upcoming 2018 football season.
Head Coach Frank Scelfo described his hopes for the upcoming season with the new talent the recruits bring to the team.
"We're very excited about the incoming class of recruits who will be joining our program for the 2018 season," said Scelfo. "Several of our new recruits were able to participate in spring practice, and we expect many of our newcomers to have an immediate positive impact both on and off the field."
These new additions to the team are expected to bring not only fresh talent to the team, but also a new and improved attitude that will unify the team and take them headfirst into a successful season.
Scelfo explained that he is looking forward to seeing the new set of players become acclimated to college football.
Scelfo said,  "It's so neat to watch a young guy come out of there and do the things that he needs to do to be able to play and go out, run out on the field for the first time and stuff like that to a collegiate football player for the first time. It's pretty good to see, and it's pretty neat to watch."
With the fall season approaching, Scelfo expressed his hopes for the team as a whole.
"We expect to be very competitive, and our team will play hard each time out," said Scelfo. "We spent the spring familiarizing our student-athletes with the pace that we expect to practice with. Heading into the season, when fall practice opens in August, we will continue to evaluate where we're at as a program every day. We're excited for 2018."
The recruits are to include Joshua Carr form Houston, Texas, Dante' Carter from New Orleans, Louisiana, Josh Cook from Walker, Louisiana, Jarius Gooch from Water Valley, Mississippi, Kaleb Hogg from Sulphur, Louisiana, Nathan Holliday from Watson, Louisiana, Taron Jones from Mandeville, Louisiana, Brendon Kelley from Franklinton, Louisiana, Brennan Lanclos from Mandeville, Louisiana, Xavier Lewis from LaPlace, Louisiana, Mike Mason from Encino, California, Chris Penton from Mandeville, Louisiana, Semaj Thomas from Fort Worth, Texas, Chason Virgil from Mesquite, Texas, Donniel Ward-Magee from New Orleans, Louisiana, Marquis Williams from Daytona Beach, Florida and Matthew Wright from Austin, Texas.  
Football season is set to kick off at the University of Louisiana at Monroe on Thursday, Aug. 30 at 7 p.m.