The SLU Lady Lions steamrolled through Texas A&M-Corpus Christi (25-8, 25-19, 25-19) and Incarnate Word (25-12, 25-14, 25-16) at the Pride Roofing University Center, sweeping a pair of Texas foes en route to their 17th and 18th straight victories. 
The Thursday, Nov. 2 affair against the No. 2 seed Islanders (14-2, SLC) featured the SLC's two best teams facing off with massive seeding implications. 
Before the heavyweight bout, SLU and Corpus Christi were tied atop the standings; a win would gift the victor sole possession of the conference's No. 1 seed and put them one step closer towards securing the regular season title and the top spot in the conference tournament. 
Head Coach Jeremy White called the match "a big indicator of whether or not we can take this thing home in the regular season."
While the Lady Lions previously trounced the Islanders in Corpus Christi 3-0 on Saturday, Sept. 23, the Texas squad had since embarked on their own winning streak, nabbing twelve straight victories to keep them neck and neck in the standings.
No such luck for number 13, though, once they entered the Pride Roofing University Center; the Lady Lions made sure of it. 
The home squad took the early edge in the first set, leading Corpus Christi 3-2. After a service error from senior outside hitter Kailin Newsome, SLU ripped off six straight points, ultimately beginning a torrid 22-6 run. 
Junior opposite hitter Rachel Hartmann recorded seven kills in the set while junior setter Gracie Duplechein tallied nine points, and the Lady Lions handily won the first, 25-8. 
The Green and Gold then cruised to victory following the first-set shellacking, winning the final two sets 25-19 to firmly take control of the SLC's mountaintop. Duplechein recorded a double-double, racking up 39 assists and 18 digs, while Hartmann recorded 20 kills on a .731 attack percentage, earning her the SLC Offensive Player of the Week award, her fourth time winning the award this season.
The Lady Lions handled business again two days later, on Saturday, Nov. 4, when they welcomed the middling UIW Cardinals (5-11, SLC) to the UC. The game coincided with Alumni Night, where multiple former Lady Lions returned home to celebrate their time in the program.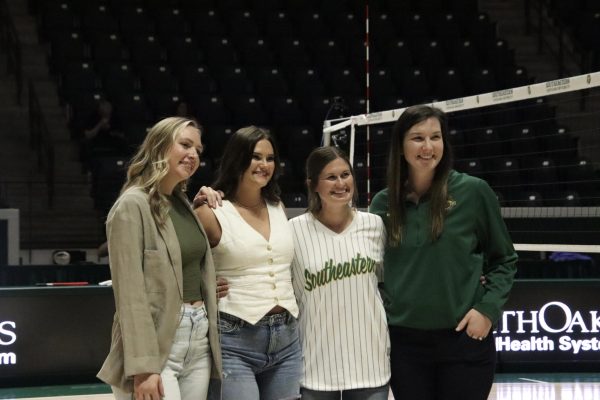 SLU wasted no time beginning the festivities, winning the game in just over an hour of play.
Early in the first set, thanks to a few UIW errors coupled with two kills from Hartmann and Hidalgo, a 2-2 tie ballooned to a 7-2 SLU advantage. At 13-10, a Newsome kill sparked a 7-0 run featuring two Duplechein aces, ultimately putting the opening set out of reach. The pair of runs powered SLU's offense to a commanding 25-12 win.
In the second set, with the Lady Lion alumni waiting in the wings, Southeastern pounced to an 18-9 lead, punctuated by a leaping kill from senior middle hitter Jacqueline Arrington. A UIW error closed the set in favor of the Green and Gold, 25-14. 
Arrington, playing against her former UIW teammates, recorded nine kills and 11.5 points overall. Most importantly, her stellar defense, which included five blocks, garnered her the SLC Defensive Player of the Week award, her third time winning the award this season. She credited her success to her team's effort on every point. 
"It starts with the pass and then the set, and we're able to create a good spread offense the entire time," Arrington said. 
The third set began with both teams trading blows, leading to a slight 10-9 SLU edge. However, like they've done all season, the Lady Lion's tenacity broke through, leading to another seven-point blitz which put them ahead by a comfortable eight-point margin. Newsome's eighth kill sealed the match and SLU's 18th straight win, sending the home crowd into a frenzy. 
While their preposterous win streak is incredible on its own, their dominance over the Lone Star State is particularly eye-popping: to this point in their historic campaign, SLU is 11-1 against Texas teams, including sporting a stellar 7-0 road record.
The team, fans and alumni celebrated yet another win with donuts and cupcakes. 
White attributed his team's historic season to experience and veteran leadership, leading to greater poise in high-leverage games. 
"We've got a lot of kids who've been there, done that. In the big games last year, we were maybe a little tighter and that cost us a regular-season opportunity. We are significantly different now. We play with a different level of intensity, focus and confidence," White said.  
The Lady Lions will face Lamar on Thursday, Nov. 9 at the UC during Senior Night and then head to McNeese for a season-finale showdown against the No. 4 seed (13-3, SLC) Cowgirls. 
SLU can clinch the SLC regular season title and the conference tournament's No. 1 seed with a win in either contest. Brewer acknowledged the team's excitement about the opportunity but cautioned that they shouldn't take Lamar "for granted." 
"Obviously, it's exciting…we know we can do it. We have to have high hopes but not take a team for granted, as well," Brewer said. 
While they stand on the precipice of a regular season title, White reemphasized taking things "one game at a time."
White said, "The reality is, we could win a regular-season championship and it would look awesome to hang another banner, but it doesn't mean we get to go to the NCAA tournament. Typically, [the SLC is] a one-bid league, so we have to do a good job of winning out."
Fans can watch SLU's match against Lamar on ESPN+ or listen via KSLU. Stay tuned to The Lion's Roar and Lion Sports for more information on Lady Lions Volleyball.