Modern-day slavery located behind bars
The 14th annual Social Justice Lecture Series welcomed Jordan Mazurek, the national organizer and co-creator of the Campaign to Fight Toxic Prisons, to speak about prison abolition.
Mazurek's talk focused on the toxicity of the current prison system environmentally, socially and economically. He used his own research, phone conversations with prisoners, government statistics and studies from several universities to protest against the nature of federal prisons.
Mazurek discussed the 13th Amendment and Jim Crow laws as ways of elongating slavery, using the Louisiana State Penitentiary as a modern-day example.
"Prisoners in Angola are still picking cotton on cotton fields for pennies now, and that is literal slavery," said Mazurek. "And so, prisoners went on strike across the country demanding an end to this practice."
Mazurek talked about the factors that contribute to fewer incarcerations, which include education, healthcare and trauma services. He analyzed the dysfunctional nature that ex-convicts face on a daily basis.
"Why the hell would we suspect that someone who's been locked away for 23 hours a day for 20 years would be OK when they got out of prison, especially with the fact that they already have a felony charge?" said Mazurek. :They can't get a job. They can't go and live with their friends because felonies are concentrated, right?"
He later shared that in his fieldwork, he has found that 35 percent of prisons are at least five kilometers from a Superfund site.
"Superfund sites are sites designated by the National Environmental Protection Agency as the most toxic sites in the U.S. that are in need of immediate cleanup, and immediately getting anyone who lives there out of the way," said Mazurek.
As a part of his campaign, Mazurek and other members of the Campaign to Fight Toxic Prisons flooded the Department of Corrections with calls in the coastal states that expected to face Hurricane Florence. The reason was that prisoners had died the previous year in Texas during Hurricane Harvey because a prison refused to evacuate its prisoners.
Mazurek explained the aftermath.
"When the water finally receded, they had no bottled water on hand," said Mazurek. "They were given six ounces a day, and it's extremely hot, like I said, in Texas. They were saying that their eyelids were sticking to their eyes, and their tongues were not getting any moisture, and the only thing that they had to drink was the toilet water. And so, they were forced to drink the toilet water, and because of that, two prisoners got an infection. Two prisoners died."
According to Mazurek, prisons do not serve as a source of economic growth.
"These prisons have been around for a number of decades, and yet, these are still all in the poorest counties, right?" said Mazurek. "There has been no economic development, and some studies out of West Virginia University on prison construction and economics within the rural county show when a prison's built, the economy either remains zero, it's stagnant, or the economy actually declines."
Mazurek explained that prisons cost a lot of money to construct, that the jobs that are created give the workers bad wages, and that the money spent goes to private contractors, not to the community.
Professor of Sociology Dr. Marc Settembrino, the chair of the Social Justice Lecture Series, explained the function of the series.
Settembrino said, "The Department of Sociology and Criminal Justice established this Social Justice Speaker Series to bring nationally and internationally recognized social justice activists and scholars to the Southeastern community."
Jacob O'Neill, a senior sociology major, shared some of what he learned from Mazurek's presentation.
O'Neill explained, "Hearing the stories and the names of people who are really experiencing these things, I find it very crucial to understand this topic, this moment in time, and that's the only way we're going to be able to make actual decisions and change: by understanding what's going on right now to real people we care about."
Correction: In an earlier version of this article that was posted on lionsroarnews.com, it was stated that Mazurek's talk for the Social Justice Lecture Series was about prison reform. The talk was about prison abolition. The online version has been corrected.
About the Contributor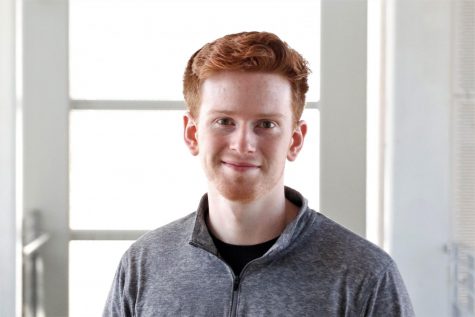 Jacob Summerville, Editor-in-Chief
Jacob Summerville, a history and political science major, has worked at The Lion's Roar since September 2017. A native of Greenwell Springs, LA, Jacob...