Designing his own future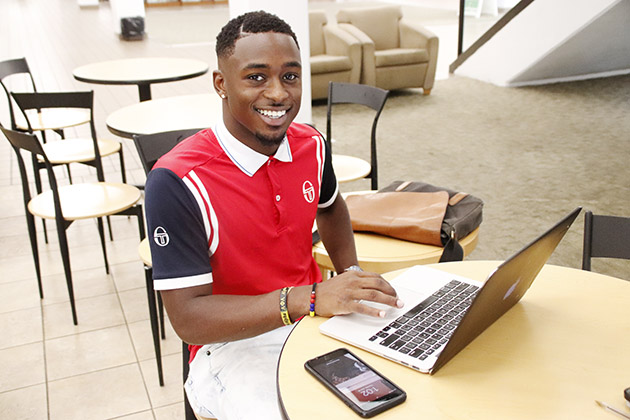 University alumnus Dwayne Woodard started as an event promoter in 2014 and has since grown into an entrepreneur with his own prospering business, DOH Visuals LLC, which specializes in graphic designs. 
The DOH title is derived from both his social media handle and childhood nickname "DohDollars."
Woodard explained that he decided to learn the craft to improve promotion productivity, using YouTube as a guidebook. He also cited the university and his many experiences as major components to his current success.
"My time at Southeastern helped my brand grow by providing it with a platform," said Woodard. "During my last year, I was able to design a vast amount of projects for different organizations."
One of these university-based projects that helped propel him to his current level of success was the election campaign of Student Government Association President Richard Davis Jr.
"Dwayne is a bright businessman and brother who knows how to treat his customers and his friends right," said Davis. "He is funny and very sociable, but also knows how to separate business from his personal life. He helped me with all of the graphics for my campaign from the flyers promoting my platform and my experience to my voting countdown flyers to the 'thank you' flyer, which I posted after I won the election."
Davis explained his decision to use Woodard for his campaign.
"I chose to use my fraternity brother's company because he does all of the graphic design work for our chapter, and he has a very good eye for detail," said Davis. "He also knows how to turn your ideas into reality and is open to changes."
Assistant to the Coordinator of Marketing and Promotions Caitlin Wade first met Woodard when he reached out to her supervisor Lindsey Cramer to request an internship for Fall 2017. 
Wade grew fond of Woodard's work ethic.
"He is the kind of person you want for all four years of their college career," said Wade. "I could tell he was self taught but that he was passionate about his work. Naturally, he has an eye for putting together imagery and text to convey whatever subject he is working on skillfully."
Although she noted that Woodard was self taught, she remains impressed and nabbed him a "skilled designer" in a constantly changing field. She explained that because he knows what his strengths and weaknesses are as a designer, she assigned him work in both categories in the hopes of giving him more experience. 
"I hope Dwayne accomplishes what it truly means to be a free lance designer," said Wade. "He has the connections, communication and work ethic for it. Not all designers are cut out for that route of design. He is on top of his game, so I hope he continues on that path because I can see it opening a lot of doors for him and his portfolio."
With no specific creative process for his works, Woodard described the early stages of his projects as freestyling. 
He discussed his future business prospects with various companies. 
"Majority of my clientele request flyer design, but I plan to expand to motion graphics in the near future," said Woodard. "I would also like to work on political campaign teams and partner with restaurants."
In continuing his journey, Woodard explained what he hopes to improve upon in regards to his business.
"My first priority is to enhance my customer service skills," said Woodard. "The next step would be to systematize my everyday operations. All good businesses function with systems. Once I get consistent advertising content to balance with what's stated above, the product demand should be through the roof."
When progressing one's career in a business setting, establishing goals and a path to accomplish them is imperative to success. 
"In the future, I want to be known as a multimedia expert," said Woodard. "In doing that, I will enhance my designing skills in photo, video and still art. One day, I plan to own a multimedia shop that offers designing, printing, video production and advertisement. I also have interest in event planning, fashion and investment property. I am currently in a partnership with a printing company in Baton Rouge with more consistent clientele."