Lady Lions take the wind from beneath Warhawks' wings, win 4-2
Southeastern Softball achieved a comeback victory against the University of Louisiana at Monroe (ULM) Warhawks on Wednesday night at North Oak Park. 
Coming into the matchup, the Lady Lions were 22-7, averaging 5.8 runs per game. They opened conference play with a series win at Lamar University. 
Junior pitcher Cera Blanchard took the bump for Southeastern tonight and made her presence known from the outset. At the top of the first, she generated a groundout and hurled a pair of strikeouts to put down the top of ULM's lineup in emphatic fashion. 
However, Southeastern's offense was kept in check at the bottom of the first. Besides a walk from freshman third baseman Maria Detillier, the bats were kept silent. The first inning concluded as it began, 0-0. 
Blanchard kept up her dominant start at the top of the second after she induced a groundout, threw another strikeout and generated a fly-out to center field to once again sit the first three batters down. After two innings, she had yet to allow a runner to reach base. 
Southeastern's offense began to come alive in the bottom of the second. Junior catcher Bailey Krolczyk smacked a double to left center to put Southeastern on the base paths. A fielding error allowed sophomore shortstop Maddie Watson to reach base and gave Krolczyk the opportunity to trot home for the game's first score.  
The Lady Lions threatened to blow the inning wide open after a bunt from junior designated player Audrey Greely put runners on first and second with just one out. However, a subsequent fly-out and groundout from the next two batters quelled such threats. Southeastern led 1-0 going into the third against its in-state rival.
The third and fourth innings became a pitching duel between Blanchard and freshman pitcher Maddie Nichols. ULM continued to leave the bases barren thanks to Blanchard, who was now amid a perfect game bid. After four innings, Blanchard retired all twelve batters she faced up to that point.
However, the Green and Gold failed to capitalize on the momentum they garnered in either the third or the fourth. The contest remained 1-0 heading into the fifth. 
Blanchard finally looked human at the top of the fifth. After she induced a lineout, a single down the left field line from junior catcher Madison Blount put ULM on base for the first time and broke up Blanchard's perfect game bid. Junior pinch runner Kassidy Giddens stepped in for Blount and was immediately sent home with an RBI double to center field from junior shortstop Selman Campbell. 
A less-than-ideal start to the fifth inning concluded Blanchard's night in the circle as she was replaced by senior pitcher KK Ladner. 
After 4.1 innings of near-perfect pitching, Blanchard gave up two hits and two earned runs and tossed a pair of strikeouts. 
Southeastern's fifth-inning turmoil continued as Ladner began her outing on the mound. An RBI bunt from junior right fielder Madelyn Fletcher sent Selman home and gave ULM their first lead of the night. A single to left center from redshirt sophomore 3B Jacelyn Buck put runners on first and second with just one out. Suddenly, the Lady Lions were staring down the wrong end of a potential blown-up inning. 
Despite the tense situation, Ladner kept her composure. She generated a groundout and threw her first strikeout to end the inning and minimize the damage. A three-up-three-down bottom of the fifth kept the Lady Lions in a one-run deficit heading into the sixth, 2-1. 
If Ladner felt any rust at the beginning of her night, it had all but vanished at the top of the sixth. Ladner struck out all three batters in a ferocious inning, maintaining the one-run deficit for Southeastern.
The Lady Lions didn't let up in the bottom of the sixth, though. A walk and a triplet of RBI hits across the field culminated in a three-run inning for Southeastern that snatched the lead back from ULM. 
First, Rayner reached base on a four-pitch walk. Freshman pinch runner Britt Bourgoyne stepped in for Rayner and made it to third following successive groundouts from Johnson and Krolczyk. Next, Watson sent her home to tie the game on an RBI single to right field. 
Immediately thereafter, Greely smacked a go-ahead RBI double to left center that ultimately put Southeastern on top for good. 
"I was just trying to get my teammate in any way I could or just get on base any way to try to put us in a position to win. If a pitcher is throwing a strike across the plate, we're attacking it," Greely said after the game. 
Junior RF Maddie Leal cushioned the Lady Lions' lead with an RBI single to left center. With a two-run lead in tow, Southeastern headed into the seventh with a chance to put ULM on ice.
Ladner wasted no time in seizing the opportunity for a victory. In an otherworldly inning, Ladner once again struck out all three batters. This time, she sat down each batter on swinging strikeouts that sent them into a tailspin. The Lady Lions sealed the win in incredible fashion, 4-2. 
Coach Rick Fremin complimented his team's resolve in their comeback win. In particular, he praised Blanchard and Ladner for their magnificent performances in the circle. 
"We didn't panic and we kept our composure. Our pitchers, I thought, were stellar tonight. They kept ULM to three hits and no walks. I'll take holding the team to three hits and no walks all day long. It's a good in-state win for us," Fremin said. 
Krolzcyk acknowledged her team's struggles as of late and felt they should focus on plate discipline heading into their series against conference foe Texas A&M-Corpus Christi.  
"I think we got into a little rough patch because we started so perfect, but our offense was on today and I hope it starts against [Corpus Christi]. I just think we need to focus on hitting strikes," Krolczyk said. 
Fremin expressed utter pride and confidence in his team heading into their next series. 
"This team's ready. They got the fire in them and we'll handle business this weekend," he said. 
The Lady Lions will continue their homestand with a three-game weekend series against Corpus Christi. The first two games are today at noon and 2 p.m. The final game is at noon tomorrow on Saturday, March 25. Fans can watch the series on ESPN+.
Visit Lion Sports for more information on Southeastern Softball.
Leave a Comment
Donate to The Lion's Roar
Your donation will support The Lion's Roar student journalists at Southeastern Louisiana University.
In addition, your contribution will allow us to cover our annual website hosting costs.
No gift is too small.
About the Contributor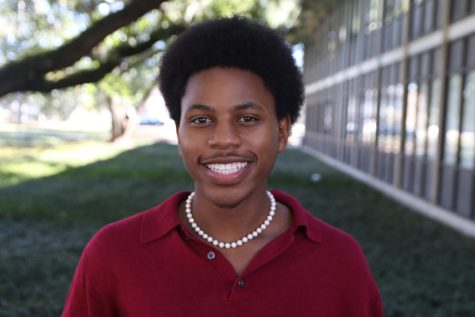 Kennith Woods, Staff Reporter
Kennith Woods is a Political Science and Communications double major with a concentration in Television and Multimedia Journalism. He's been a staff...