Starting this summer, students will be able to do more than just print, study and utilize library resources when it comes to the services offered by Sims Memorial Library.
Last Thursday, the library hosted the grand opening of its graphic novel and games collection on the second floor with the serials department. The room was full of students and staff alike who came to see the new collection and hear the excitement from English faculty, students and library staff. 
The graphic novel section contained a definite range, from classics such as "Superman" and "The Walking Dead" to comics based on historical events and figures like Anne Frank. Meanwhile, the game shelf holds board and card games like Uno, Exploding Kittens and Clue. 
According to the library director, David Sesser, this collection has been in the works since last fall.
He wanted students to be able to use the space as a way to wind down during the school day, along with the growth of love for comics and their educational benefits. 
"This collection will hopefully help in two ways. First, it will give our students a chance to relax and take their minds off of their academic work. Just taking a short break from studying to read a comic book or play a game can be really helpful. Secondly, Comic Studies and related fields are a growing area of academic study. Students from a range of disciplines including art, English, communication, and others can utilize the works in their studies," Sesser explained. 
At the grand opening, Sesser personally thanked the many folks who helped bring this together, including SLU instructor Sherri Craig, friends of Sims Library, the library's board and especially Dr. Randy Duncan, who donated the bulk of his graphic novels to this collection.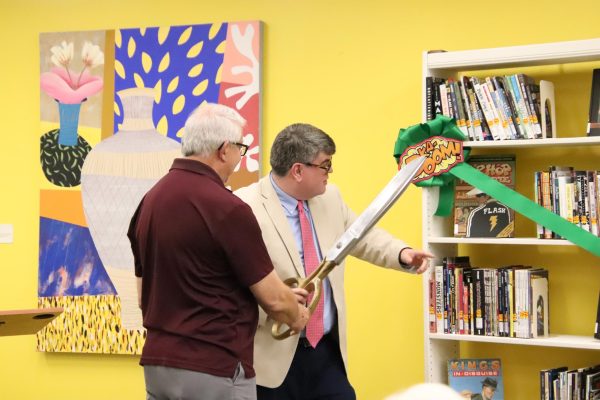 Duncan is a current communication professor and Director of Henderson State University's Center for Comic Studies. He graduated from Southeastern in 1980 with a Bachelor of Arts and has been reading and loving graphic novels since age eight. 
At the opening, Duncan remarked, "It is really gratifying to see my undergraduate alma mater start to make a commitment to support the study and the enjoyment of comics with a collection like this." 
While he does not consider himself a collector of graphic novels, Duncan has around 11,000 graphic novels just from his enjoyment and love of the medium. To save space, he now reads a lot of floppy comics on his tablet. 
Not only did students attend the opening, but some also spoke at the event about their excitement for this addition to the library. 
Graduate English student Jeffery Moran said, "I'm very happy to see that comics are getting recognition and being shown in the classroom because while they can be used for recreation, you can find a lot of tropes and stories that are told in 'real' literature in graphic novels. It makes it a lot more approachable to students who cannot sit down for a long time to read." 
Since last Thursday, the graphic novels in the collection are available to borrow from the library and the procedure is the same as checking out other books from Sims. Currently, borrowing procedures for the games from the collection are still being finalized, but they will be available to borrow before the fall semester begins. 
With Sims Memorial Library in mind, Sesser wants students to know, "While we offer a wide range of academic resources, we want to also serve as a place where students can go between classes and just take a break. We strive to become more student-centered."