Theater isn't all song and dance – it's also dedication to the many facets of the craft. Appropriately, Mona Jahani's first love in the theater was costume design.
"There is something about crafting a character, doing the historical or dramaturgical research, working with the director's vision and collaborating with the actors that I find so fulfilling," Jahani said. 
After working professionally in costume design for the last eight years, her next endeavor will begin this fall as the SLU Theatre department's new costume designer and assistant professor of costume design.
Jahani graduated from Washington University in St. Louis (WashU) with a BFA in Drama and from Michigan State University (MSU) with an MFA in Theatre Design. Her work was featured in multiple college productions, including WashU's "Legally Blonde," "Angels in America: Millennium Approaches" and MSU's "Wendy & the Neckbeards." 
Once Jahani graduated from MSU in March, she set her sights on SLU's Theatre Department, which announced an opening for a costume designer position. According to Dale Newkirk, the head of the visual arts department, she entered the selection process, which included multiple rounds of interviews from a search committee comprised of department faculty, a campus tour and a teaching demonstration.
Jahani was one of two applicants to make it past the online interview. Both were invited to SLU, where they were interviewed again and given a campus tour. Jahani said she enjoyed interacting with department members and witnessing their love and commitment to the program. 
"Throughout my interview process, it was lovely to meet with faculty and students who had such pride in the program," Jahani said. 
Ultimately, she was selected as SLU's next costume designer. She said she was thankful for the department's "kind and transparent interview process," and she's looking forward to her time on campus. 
"Throughout this whole process, I was very excited to learn more about this department and university and found myself feeling that this would be a good fit for me and my goals as a designer and educator," she described. 
Newkirk commended her resume and skillset and concluded she'll be a part of a "unique time for Southeastern theatre" as they look to develop the new theatre degree alongside the theatre design degree. 
"We have a great opportunity to build both of our degree programs with Mona Jahani at the helm of costume design," Newkirk said. 
Her designs at MSU garnered a bevy of awards and critical praise. In particular, for MSU's "Monsieur D'Eon is a Woman," she was selected as a winner of the United States Institute for Theatre Technology Midwest 2022 Digital Design Competition and she won the 2023 Howard Vincent Kurtz Emerging Theatre Artist Award from the Costume Society of America.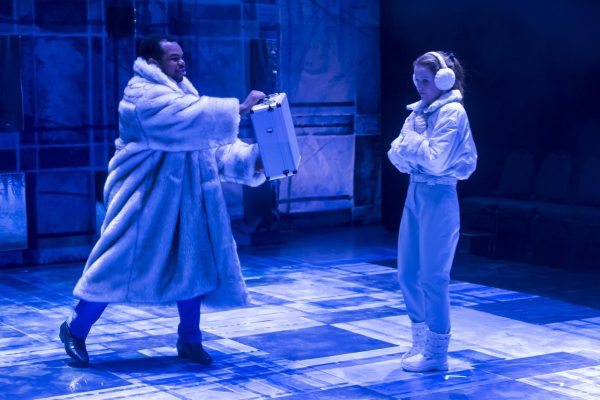 Jahani also worked extensively in professional venues in Michigan and Texas while in college, including designing for "Pippin" at Summer Circle Theatre in East Lansing, Michigan and assistant designing for "MacGyver: the Musical" at Stages Houston in Houston, Texas.
Portfolios of her work, including renderings and pictures from performances, are available on her website. 
Professor of acting and directing and Artistic Director for the Columbia Theatre James "Jim" Winter found Jahani's presence will bring a "fresh perspective and new theatrical tastes to our program" and praised her for her "intelligence, drive and professionalism." 
From Jahani's perspective, her organizational and script analysis skills will prove most valuable for her and the department during her first season on the job. 
"I think that being an organized designer is crucial to how I approach my creative work. This lets me be more creative and collaborative in the moment with the team, knowing that I have this tether back to the script to keep me grounded. I think that this quality will be super helpful in my first season with Southeastern Theatre, allowing me to be the best designer that I can be for the rest of the department," she explained. 
In addition to being the department's costume designer, Jahani is ecstatic about being an assistant professor. She conveyed her hopes of being an effective aid to her students and cultivating skills they can use beyond the costume shop. 
"I look forward to getting to know my students and seeing how I can best mold my classes to fit their needs while accomplishing our learning objectives. Especially in design courses, there are such valuable skills students can take with them even if they don't consider themselves artists. Research, analysis, creativity and communication are all valuable parts of the design process and I hope to nurture all of these within my classroom," she communicated. 
She will have her work cut out for her: the SLU Theatre season opens only a month into school with "Waiting for Lefty," directed by guest artist Leicester Landon. Despite the quick start to the season, Jahani indicated how excited she is about all the department has to offer. 
Jahani said, "Being a part of the theater program here really lets me do all the parts of the job that I love the most: Mentoring students, designing a variety of shows and utilizing my technical skills in a costume shop." 
Visit SLU Theatre's website for more information on Jahani, the department and the upcoming season.